Build the Best Retaining Walls for You with Masonry Chicago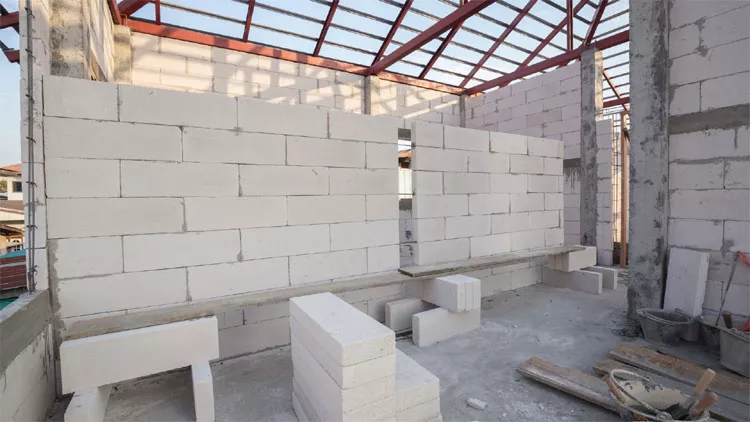 Make Your Landscaping Stand Out From the Crowd with Retaining Walls
If you live in a house with a sloping yard you may already have a retaining wall or two. These walls are great for landscaping and creating a beautiful garden no matter how uneven the terrain. They're designed to be strong and sturdy, holding back soil, often creating a terraced effect in your yard. When it comes to building retaining walls it's important to work with a professional to prevent collapses and soil erosion. In Chicago, the Masonry Chicago team is the best at building beautiful and structurally sound retaining walls that will give you a beautiful and functional yard. Talk to us today about all your options for custom retaining walls 773-231-5371 or email [email protected]
What is a retaining wall?
A retaining wall is specifically designed to hold back large amounts of earth, whether in a basement or on a sloping plot of land. Although in common use the term "retaining wall" is mostly applied to outdoor retaining walls on slopes that are used to hold back the soil, creating a flat area below.
Using a retaining wall you can turn steep slopes into beautifully landscaped gardens and terraces by increasing the amount of usable land on your plot. But, while they look simple, a lot of engineering goes into creating a wall that's capable of holding back possibly tonnes of soil. And remember, the soil gets even heavier after it rains. So to prevent your beautiful retaining wall from collapsing be sure to work with a team of experts who builds retaining walls near me, like Masonry Chicago.
Family-Owned Company. 20 Years of Masonry Expertise
Types of retaining walls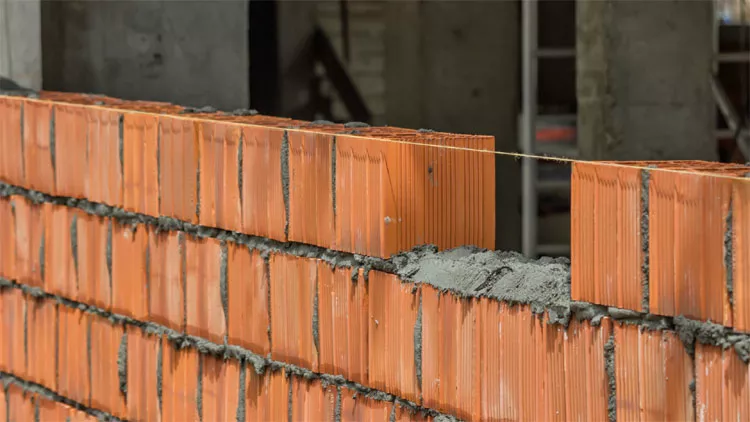 There are various types of retaining walls and the type used will depend on the size of the wall required and the weight it will be holding back.
Gravity retaining walls
Gravity retaining wall structures are best suited for shorter walls as they use their own weight to hold back the soil. Gravity walls might use interlocking retaining wall systems or traditional masonry units, and it's important to note that you should use heavy materials to build this type of wall. They are suited for holding back lighter loads, so are not ideal if you are building them for a swimming pool or a driveway.
When building a retaining walls patio or low landscaping walls, a gravity wall could be suitable
Cantilever or reinforced retaining wall
A cantilever retaining wall will have steel bars inside the concrete wall either in an "L" or upside-down "T" shape and these convert the lateral pressure from the soil behind the wall into vertical pressure into the ground below.
Also called reinforced retaining walls these walls require a strong concrete footing to keep them solidly in place. A cantilever retaining wall will require fewer materials to build it than a gravity wall of similar size.
These types of walls can be used in a wide range of situations, but may not suit your design needs as they are generally made from poured concrete.
Anchored retaining walls
If you are in need of a stronger retaining wall structure, to hold back a heavier or steeper slope you might need an anchored retaining wall. This will definitely need engineering support for its design and construction.
In this type of retaining wall structure, there are cables or other types of reinforcements that are attached to the earth anchoring the wall in place. These are often used next to highways and other large walls that will have a huge amount of lateral pressure exerted on them.
Piling retaining wall
Also called sheet pile walls these are suited for softer soils and limited spaces. Sheet pile walls are made from pilings driven into the ground with 1/3 of the materials under the ground and 2/3 above.
They can be made from various materials including wood, steel, aluminum, fiberglass, and vinyl. If this type of wall is fairly high it will also need to use anchors, as in an anchored retaining wall structure. You can find these types of walls, made from wooden planks, supporting flower beds in sloped plots.
20

years of Masonry Expertise

50+

professional bricklayers

300+

masonry and tuckpointing projects
Ready to start your masonry project?
Family Owned Masonry - Residential Masonry
What blocks are best for retaining walls?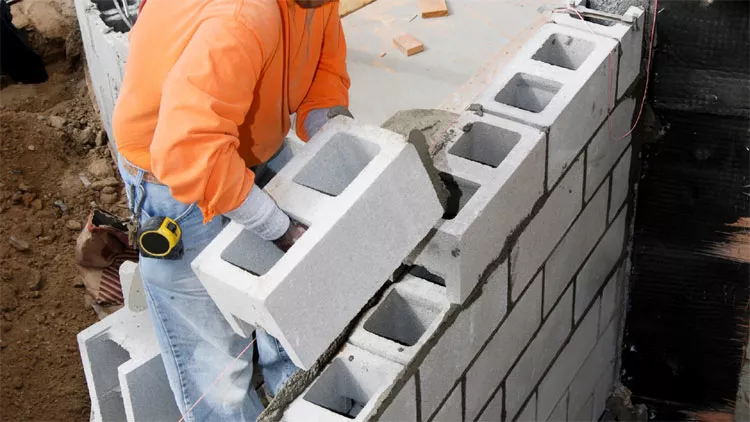 As you can see there are many different options for building retaining walls. However, if you are building a retaining wall in your yard in order to add visual interest to the landscape, as well as to retain soil, you will probably want to choose wall types that use more attractive materials.
Here are some options for block retaining walls that will create more space for your garden or patio:
Brick retaining walls – the natural color of bricks looks beautiful in contrast to the green of your lawn and will make a truly beautiful feature out of your retaining wall. A wall constructed from brick will have the benefit of being naturally porous and very strong and long-lasting.
Concrete retaining walls – these days there are many attractive options for building a concrete retaining wall using various wall blocks in different styles. Some of these wall blocks will have special interlocking shapes allowing them to be easily and solidly installed in your yard.
Stone retaining walls – natural stones are more expensive but they are heavy so work well in gravity retaining walls. Natural stone retaining walls also blend in beautifully with your backyard, especially if you use a local stone for your project.
All of these block walls are best installed by professional bricklayers or masons, to ensure years of worry-free, beautiful backyard retaining walls.
Retaining wall considerations
When building retaining walls there are various factors you should consider.
Permits – as retaining walls can interrupt underground water flows installing one may require permits and a building inspection, which experienced contractors, like Masonry Chicago, can advise you on and assist with.
Drainage – as previously mentioned, the weight of water in the soil can increase the pressure on your retaining wall, so ensuring adequate drainage behind the wall is vital. A well-drained wall will stand for many years longer without causing any problems. You can use crushed stone and add a drainpipe to assist with water flow.
Foundation – building your retaining wall it's important to have a solid footing for the wall to stand on. Depending on the height of the wall you may be able to make do with a trench filled with crushed rocks, or a properly poured concrete foundation.
Steps over height – if you have a long or steep slope it can be a better idea to create a series of shorter walls, rather than one very high wall. This will reduce the pressure behind any one single wall and require much less engineering to construct. Building a retaining wall over 3 or 4 feet high is a much larger project than building several low walls.
Over 300 Projects in Chicago and Suburbs
Frequently Asked Questions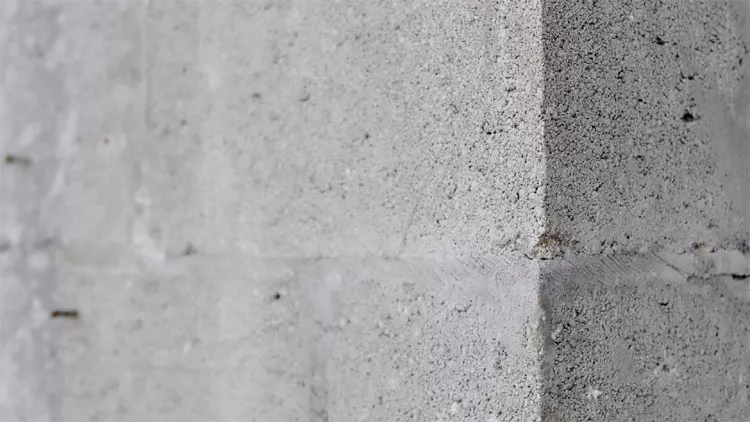 What type of retaining wall is best?
The type of retaining wall that will suit your needs depends very much on how much weight it will have to hold. For the construction of most low walls for gardens or patios, a solid gravity wall made from masonry will be the ideal choice.
What is the cheapest way to build a retaining wall?
The cheapest types of retaining walls are poured concrete and then concrete blocks – both of these types of retaining wall structures are very inexpensive, as long as they are not too high and aren't supporting too much weight. You can get a poured concrete retaining wall for about $4.30 per square foot and an interlocking concrete blocks wall for around $5.65 per square foot.
Can brick be used for retaining wall?
Brick is a very popular material for building retaining walls in yards and gardens as the color of the brick contrasts beautifully with the green of the garden. This can create a truly beautiful feature in your yard. Their natural strength and longevity make bricks a great choice for your new retaining wall.
Look at
The Results of Our Masonry Works:
Building with a difference. Before and After: