Need Fireplace Repair? We have 20 Years Experience | Chicago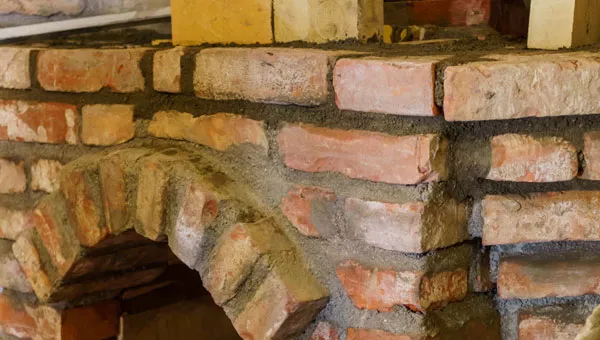 Proper maintenance helps ensure a fireplace remains safe and fully functional. To find out more, read this guide to fireplace repairs by Masonry Chicago.
Fireplace Repairs by Masonry Chicago: Top Quality Service, Good Prices
Over time, fireplaces can incur various types of damage due to aging, prolonged exposure to high temperatures, water infiltration, or other problems. Proper fireplace maintenance is important for safety — as well as to make sure the hearth remains an elegant feature in your home. If you are looking for "fireplace repair Chicago," you might want to read this guide from Masonry Chicago's fireplace professionals.
Fireplace repair: make that centerpiece shine
If you walk into a room with a fireplace, do you notice how it naturally draws your attention and becomes the focal point of the space?
Having an elegant fireplace can make any room cozy or give it a feeling of luxury. But like any masonry, fireplaces deteriorate with age and use, even if they are located inside.
Or, maybe you've recently moved into a house with an old fireplace and want to give it a makeover?
Whether your fireplace is in need of repair or you just want to give it a new look, Masonry Chicago can offer a full range of fireplace services, from resurfacing brick fireplaces or repairing masonry to carrying out an entire fireplace restoration.
Googling "Home builders near me?" Masonry Chicago has been providing masonry services in the Chicago IL area for over 20 years. Call us at 773-231-5371 and get a free estimate today!
Over the last two decades, our fireplace professionals have carried out all kinds of chimney and fireplace repair work for satisfied customers across the Chicago area, becoming one of the most trusted and highly recommended companies for those searching for "fireplace service near me."
Family-Owned Company. 20 Years of Masonry Expertise
How Much Does A Fireplace Repair Cost?
The importance of repairing fireplaces properly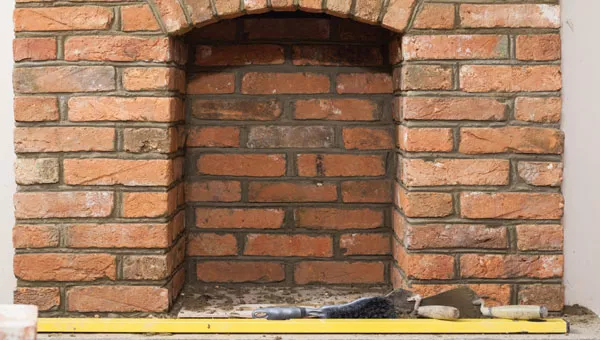 Of course, aside from looking nice, fireplaces and chimneys also serve an important function — to safely house fire and heat your home while taking harmful smoke up and away from your house.
Masonry fireplace repair and maintenance are important to ensure your fireplace functions properly and to protect the occupants of your home. So it pays to do your research when looking for "fireplace repair near me."
Any repairs carried out should be done with materials that maintain their integrity at high temperatures. Failure to carry out proper fireplace and chimney maintenance can lead to fire risks, allow harmful gases to seep into the house, or compromise the stability of the structure. Unless you are experienced in fireplace repairs, it is always best to call in specialists to do the job properly.
Regular inspections
Given the importance of keeping your fireplace and chimney in good condition, we recommend regular inspections to see if any fireplace chimney repair is necessary.
Our experts can conduct a full structural and fire safety inspection to assess your fireplace and chimney for problems related to excess moisture, temperature corrosion, decaying mortar or flue lining, and any other issues that might compromise the functioning of your fireplace.
Our company is a Chicago general contractor with over 20 years of experience.
Fireplace repair and restoration services
The specialists at Masonry Chicago are well versed in all kinds of repair and restoration work related to fireplaces. Here are some of the most commonly requested services by people looking for fireplace maintenance near me:
Fireplace resurfacing
If your fireplace is already in good working order and you just want to change its external appearance, you might want to consider ways to resurface brick fireplace to make it fit the decor of your room, match contemporary trends, or just give it a new look.
There are various options to resurface a brick fireplace. You might want to retile around the hearth or add a new mantelpiece. Or you can clad and remodel an existing fireplace to completely hide remnants of the old structure and transform its appearance.
Our fireplace specialists can run you through the different designs and materials available and ensure that your resurface job meets relevant building codes so that you can realize your dream fireplace.
20

years of Masonry Expertise

50+

professional bricklayers

300+

masonry and tuckpointing projects
Ready to start your masonry project?
Fireplace restoration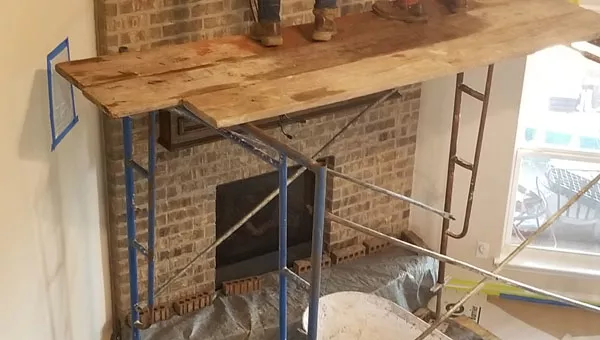 Many homes in and around Chicago have beautiful fireplaces that have been neglected and not used for years. With a bit of care and fine craftsmanship, these antique fireplaces can be brought back to their former glory
Over the years, Masonry Chicago has restored countless old fireplaces — in fact, there's nothing we love more than bringing out the hidden beauty of an old hearth and making it fully functional so it can again become a centerpiece for home life and enjoyment.
If you have an old fireplace you might want to bring back to life, please talk to one of our team about our fireplaces restoration services today.
Fireplace and chimney cleaning
It is important to keep your chimney and fireplace clean, as the accumulation of by-products like soot or creosote can impair the functioning of the chimney and also present a fire risk. Masonry Chicago offers chimney sweep services along with regular inspections to make sure your fireplace and chimney remain in good working order.
Over 300 Projects in Chicago and Suburbs
Frequently Asked Questions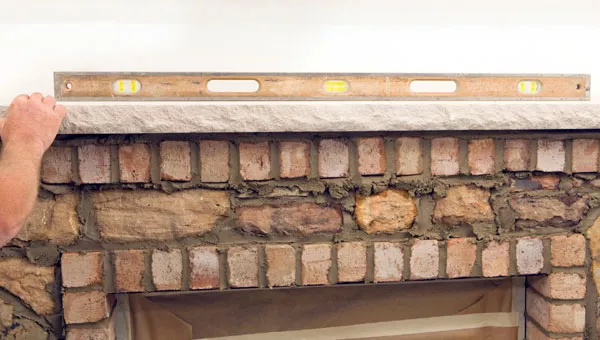 How do I know if my fireplace needs repairing?
Damage to a fireplace and chimney system is not always immediately obvious, so it is a good idea to have regular inspections carried out by a qualified professional. If you spot any of the following tell-tale signs, it might be a good idea to have one of our team come out and inspect the problem to see if any repairs are required.
Deteriorating mortar joints in the firebox or elsewhere
Cracks in the walls of the firebox or inside of the chimney
Leaks or excess moisture buildup, which might indicate an issue further up the chimney such as cracks in the chimney crown or faulty flashing where the chimney meets the roof
Can a cracked fireplace be repaired?
Cracked or deteriorated mortar joints — usually on the back wall of the firebox — are one of the most common problems with fireplace masonry. This can be resolved with tuckpointing by carefully removing the cracked areas and replacing the old decaying mortar. If the damage is more serious, it might be needed to partially rebuild the affected area with new firebrick.
How much does it cost to repair a fireplace?
The cost of fireplace masonry repair or restoration can vary widely according to the condition of the existing fireplace/extent of damage, the specifications of the remodeling, materials used, and any additional work required to the chimney or other masonry.
To get a more exact figure of how much it is likely to cost to repair fire place, our associates are standing by and ready to discuss the various factors involved that impact the financial outlay required for different types of work to repair fireplaces.
Other masonry services from Masonry Chicago
In addition to our work repairing fireplaces, Masonry Chicago can offer a complete range of masonry expertise in-house to match any kind of masonry project you have in mind.
At Masonry Chicago, we handle all this work and more to the very highest standards, which is why we've become a go-to choice when it comes to brick masonry contractors Chicago.
Look at
The Results of Our Masonry Works:
Building with a difference. Before and After: