Understand Your Exterior Wall Choices with Masonry Chicago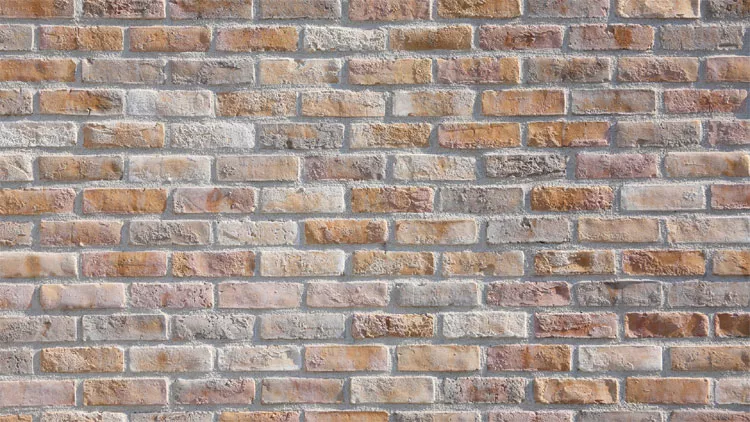 Understand Your Exterior Wall Choices – New Guide for 2022
When building a house there are many decisions that need to be made, for both aesthetic and practical reasons, and one of the most important is deciding on your external walls construction. When you choose the materials for your exterior walls it's important to consider the look you are going for, as well as the level of protection and insulation offered by your choice of wall systems. At Masonry Chicago, we are experts in constructing a beautiful and practical exterior brick wall for your home or business, that will give your building a classic beauty, require little maintenance, and last for many many years to come. Discuss your construction needs with us now by emailing [email protected] or calling 773-231-5371.
What is exterior wall construction?
Your house will have both interior and exterior walls but the construction of your exterior wall is the most important when it comes to separating your home from the outside world.
These days most interior walls are made from drywall, attached to the framing material, which is most often wood-framing and sometimes steel framing. But on the outside of your frame is your external wall which serves the following purposes:
Gives your house its outside shape and appearance.
Protects your house's interior from the elements, such as rain, snow, and storms.
Helps regulate the temperature inside your house.
Provides a soundproof layer, keeping out the noise of traffic, airplanes, schools, etc.
Brings security and privacy to your home.
Reduces your fire risk.
Some external walls also serve a load-bearing function, supporting the roof, floors, and windows.
Family-Owned Company. 20 Years of Masonry Expertise
Factors to consider for exterior walls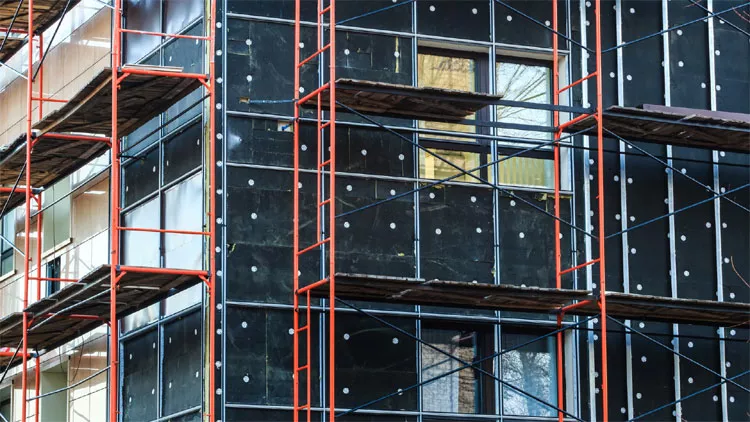 As you can see, your choice of building materials is very important, so here are some key things to consider when choosing your exterior wall material.
Appearance
This is the face your home will show to the rest of the world, so you want something that looks attractive and classic. If you ever decide to sell your home curb appeal is a huge factor when buying a house, so choosing a refined and timeless material, such as brick, will help your house stand out from the crowd.
Water resistance
One of the key purposes of your external wall is to keep out the weather so choosing a material that deals with moisture well is important. Whether you choose something that puts a water-resistive barrier over the whole building or something, like brick that allows moisture in and out without issue, making sure your home is dry and safe from rot and damp is vital.
Energy efficiency
As power bills get more and more expensive, energy efficiency is a key factor when building a house. You want a home that is comfortable and cheap to live in.
So when you build an external wall you want to make sure it keeps your house cool in summer and warm in winter. One thing to consider is avoiding any issues of thermal bridging (heat leaking in or out through the wall).
You can ensure your house is energy efficient by insulating it well. You can do this with insulation materials as well as air sealing. Building an exterior wall, such as a brick wall with space for insulation is a good way to ensure your house is as energy-efficient as possible.
Fire resistance
Your house should keep your family safe so choosing materials that are fire-resistant is very important. As well as a safety feature, exterior walls that are fire-resistant can also reduce your insurance premiums. A great choice for this is bricks, which are naturally fireproof.
Maintainance
Some exterior wall building materials require more upkeep and maintenance than others, and as your time is valuable you want to ideally choose something that keeps its appearance while requiring very little upkeep.
Longevity
You want your house to last for many many years, and one of the best ways to do that is to build long-lasting exterior walls. Choose a material that will truly stand the test of time.
20

years of Masonry Expertise

50+

professional bricklayers

300+

masonry and tuckpointing projects
Ready to start your masonry project?
Family Owned Masonry - Residential Masonry
Exterior wall materials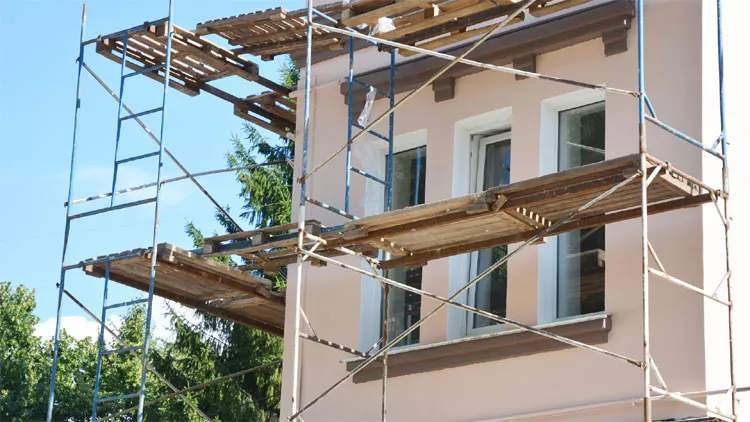 You have a choice of options when building exterior walls. The most popular materials are:
Brick
Wood
Stone
Tiles
Metal
Vinyl cladding
Brick exterior walls
At Masonry Chicago, we are experts in building brick walls that will not only look beautiful but also stand the test of time, lasting for many years. When you look around the city of Chicago, many of the oldest existing buildings are made from bricks, one of the reasons we love to build with this beautiful and long-lasting material. To find out more about our exceptional brickwork and masonry call us now at 773-231-5371 or email [email protected]
Why are bricks good for external walls?
One of the best materials for building solid and durable exterior walls is brick. This material has been around for centuries and many old brick buildings are still standing, speaking to this material's wonderful durability. But that's not the only reason why you would choose bricks for your exterior wall:
Aesthetics – a brick home is always attractive and has a classic and timeless beauty. Whether it's built using a modern or classical style a brick house will always have curb appeal.
Durability – brick buildings can last for well over 100 years, thanks to the strength of this amazing material.
Safety – bricks are naturally fire-resistant – after all, they are made in an oven – making them one of the safest options for covering your house. Bricks are also a great choice for areas prone to strong winds and storms as they are very stable and sturdy.
Soundproof – a brick wall is naturally great at blocking outside noises, keeping your home calm and peaceful.
Weather proof – with home construction it's important to make sure your house is dry and comfortable inside and doesn't suffer from rot, mildew, or dampness issues. Bricks are a great choice in this instance, as they naturally breathe preventing moisture from building up and the gap between the brick wall and the rest of the house allows any moisture to drain away, keeping the interior dry.
Insulated – bricks have a very low thermal conductivity, meaning they don't bring hot air in or let cool air out, so they are a great choice for adding an extra layer of insulation on the outside of your home.
Low maintenance – of all the exterior wall choices you have bricks are probably the lowest maintenance. They don't require to be repainted and they often look even better as they age. Depending on the climate where you live you may need to clean them with a power washer occasionally but that isn't an issue for everyone. Even repointing the mortar in your brickwork is only necessary every 20-30 years.
Can you put brick on an existing house?
If your current wooden framed home siding is looking old and tired, or you are looking to update and upgrade your house you can always ask your local brick builders or contractors to create a new brick facade for you, so you can reap the benefits of this wonderful building material without building a new home or moving house.
If you are in Chicago, speak to Masonry Chicago about your brick facade project. Our team of experienced masons and bricklayers will help upgrade your house making it more durable and beautiful. Call us on 773-231-5371 or email [email protected] to discuss your exterior wall project today.
Over 300 Projects in Chicago and Suburbs
Frequently Asked Questions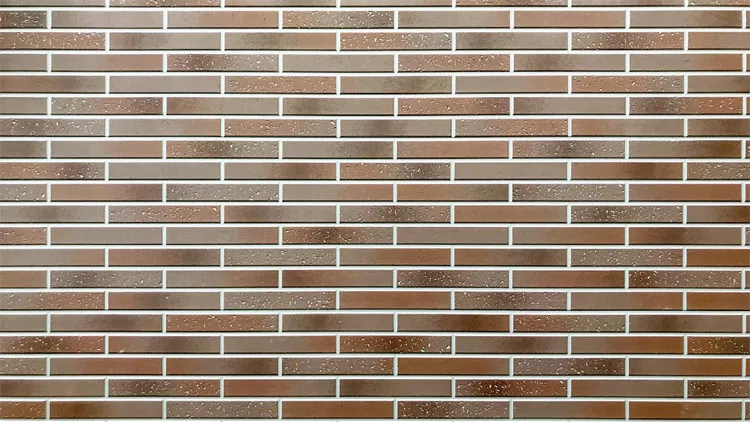 What can I use for exterior walls?
There are many materials that work well for exterior walls. Some of the most popular are bricks, stone wood, metal, or various types of cladding on a concrete wall. There are various wall systems that you can buy prefabricated, which work particularly well on commercial buildings.
How do you brick an exterior wall?
You can either brick an external wall while building a new house, or you can add a brick facade to an existing structure.
It's important to build your brick outside walls on a solid foundation and attach the wall to your framing, using steel ties. You should also make sure you put a layer of water-resistant wrap over the house walls before building the brick wall. Ensure weep holes are also added to the first course of bricks to ensure moisture can drain away.
What are masonry walls?
Masonry walls can be either internal or exterior walls, but more commonly these days masonry walls are external. Masonry is the skill of building in either brick, stone, concrete block, or cinder block. Some definitions also include poured cement, clay, and glass block.
A masonry external wall is almost always brick, and occasionally stone. Concrete walls are generally covered in another material, as they are not as attractive as other forms of masonry.
Look at
The Results of Our Masonry Works:
Building with a difference. Before and After: