Concrete House Cost: Get Discount in 2022 | Masonry Chicago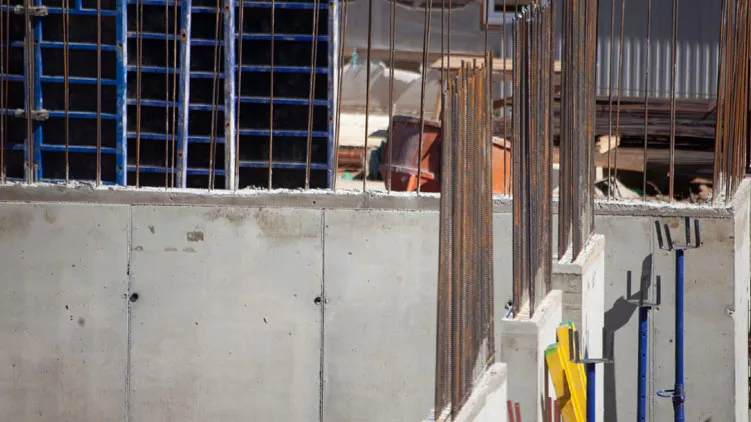 Concrete House Cost: Find out and Build in 2022 in Chicago
A concrete house is one of the most popular options among American homeowners. Unlike wood or stone, labor and material costs are relevantly affordable, concrete is strong, durable, weather- and fire-resistant. Some homeowners choose concrete construction for its energy-saving qualities. Even though it costs much higher upfront, you could save as much as 30 percent on heating and air conditioning.
Modern concrete houses can cost anywhere from $220,000 to $5 million, depending on construction techniques and finishing. Concrete walls systems in houses or commercial buildings are built on precast forms or poured concrete mixes to form monolithic enclosures.
This article, created by Masonry Chicago concrete builders, contains all the information you need on concrete house costs. We will compare them with the other popular options and will discuss the best ways to save money.
Don't search for the new home builders in Chicago no more! You've just found them!
Sounds appealing but you still have questions? Do not hesitate to call Masonry Chicago at 773 231-5371 and discuss your upcoming project with us. Free estimate right on the phone!
I want to build a house from concrete. Tell me the cost!
One of the most questions that we get from our potential clients — "Is concrete really cheap and durable?". And if the general answer is "Yes!", the exact numbers will obviously depend on the type and scale of your project! It is true that many concrete houses are considerably less expensive than houses constructed of other materials, including lumber or metal. The costs for building concrete homes are also lower in comparison with timber-frame homes. Especially now, when timber prices are rising up to 70% from pre-pandemic levels to pre-pandemic levels.
The median concrete house price in the U.S. in 2021 stood at a level of $280,000 for 2000 square feet. The new building cost is estimated at $310,000. The experts predict the overall new construction price raise to 3% – 5% to $319,300 – $325,500 in 2022. However, the final budget will always depend on the size, the building method, the design, and the finishes of the house.
Average prices to build a concrete home in the U.S. in 2022 range from $100 to $250 per square foot for "regular" projects. And for luxurious estates, the cost can come up to $500 and higher.
Family-Owned Company. 20 Years of Masonry Expertise
New Home Construction In Chicago | Home Builders
How are concrete homes built?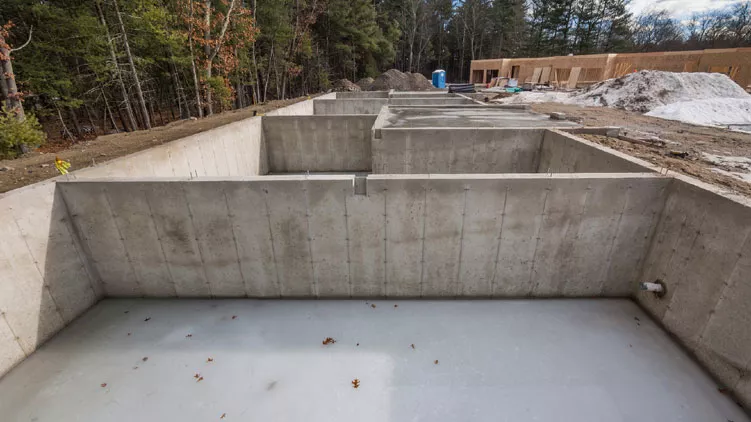 Concrete houses are built either from the prefab concrete blocks or from the poured concrete that is shaped into molds right on the construction site. It is super important to work with an experienced contractor that will choose a perfect method or their combination suiting your project in particular. That will secure the building's durability, structural integrity, and safety.
The concrete used in residential or commercial construction is a mixture containing Portland cement, water, sand, and gravel. These chemicals are combined to provide stronger and more durable building material.
Depending on the floors plans and the structural usages of the residential building (buildings), the blocks are assembled after the foundation is ready, or the concrete slabs are produced on-site. In the case of the latter, or cast-in-place concrete walls, the overall curing process will take 28 days before the builders can begin the decorative works. This method is more expensive than concrete block house construction.
Additional buildings — additional costs
Additional costs in the construction of the concrete residence include the finishing decorative works and the installation of extra buildings on the site — garages, decks or driveways. Finished concrete exterior walls can cost anywhere from $3 to $12 per square foot, depending on the materials used. The installation of panels to the concrete exterior requires additional fencing stripes and the exterior painting costs between $3 and $4.50 per square foot.
How does design affect the price of the concrete house
The design options for concrete houses are immense, and will also affect the final budget dramatically. The decoration can resemble traditional frame houses, be modern or classy. One of the most affordable options — is a simple shaped modern home with clear lines, big open spaces, panoramic windows. Concrete is often matched with steel reinforcements: they improve the structural integrity and durability while providing fashionable "loft" aesthetic appeal.
Choose insulating concrete forms (ICF)
A properly built and insulated concrete home perfectly retains heat in cold weather and keeps cool when it is hot outside. The modern material used for that is insulating concrete forms (ICF). The main difference between using ICF and the traditional concrete method — in the case of the latter the professionals use wood forms that are removed after the concrete is set. In the case of ICF, the forming remains in place, integrated into (foundational) walls. This results in super-strong, stable, and insulated walls.
20

years of Masonry Expertise

50+

professional bricklayers

300+

masonry and tuckpointing projects
Ready to start your masonry project?
Chicago Concrete Estimates - Full Service Construction
ICF homes, heating, cooling & equipment costs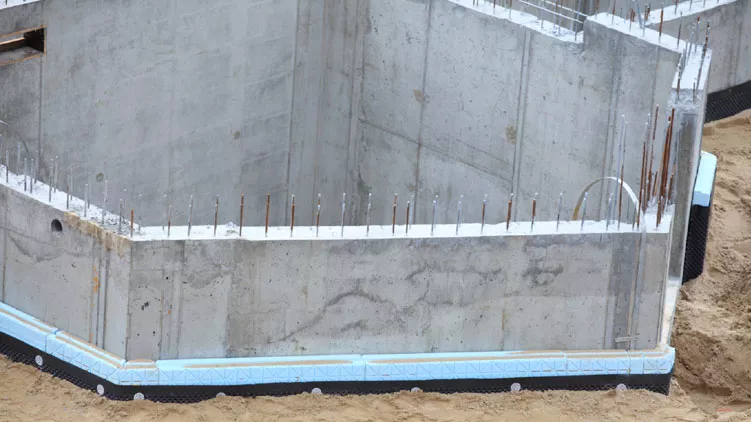 Usually, it helps to save about 20% – 25%on the annual cost of energy. But the overall amount of money you can save will depend on many things, like wall thickness and type of windows in your house, ceiling insulation, temperature, and cooling efficiency, and, of course, the climate in your area.
The ICF residences are highly protected from the elements: they are fire-, tornado-, storm-, and earthquake-resistant. Also, ICF construction enables the installation of smaller heating and cooling units, saving thousands of dollars on expensive equipment.
Energy efficient mortgages (EEM)
Homeowners whose homes are being built or acquired with the help of modern ICF materials may qualify to receive a more energy-efficiency mortgage (EEM), which allows the borrowers to apply for a bigger mortgage resulting from a lower energy cost. It would allow owners to invest more in ICF homes because of a reduction in their monthly heat bills. For additional information, please see the official site of the Energy Efficiency Mortgage Program.
Insulated concrete forms (ICF) house costs
Expect to pay 5% to 10% more for the ICF house construction, in comparison to standard house construction methods. Average prices, depending on the project, range between $120 t0 $250 per square foot. Find a local home builder who can tell you about the difference in detail and provide a free estimate. Looking to build a concrete home in the Chicago, Il area? Give a call to Masonry Chicago at 773 231-5371 and discuss your options today!
Poured concrete house cost
The average price of a poured concrete home is $150 per square foot, which makes a 2000 sq. ft house cost stand around $300,000. Traditional poured-concrete houses can be as much as 35% cheaper than wood-frame homes.
Cinder block house cost
Building cinder block homes cost on average $120 per square foot. Therefore, you will spend a starting price of $240,000 for a 2000 square foot cinder home.
Prefab or precast concrete homes cost
Building prefab or precast concrete homes will typically cost $120 – $180 per sq ft. The overall cost, therefore, ranges from $240,000 to $360,000.
Are poured concrete walls cheaper than block?
Pour-on concrete walls provide greater architectural flexibility for building projects. Also, this method gives a more durable result. So yes, on average, the price can be up to 5% – 7% higher than of concrete block construction.
Concrete vs. wood house cost
Concrete homes cost 6 % t0 10% less than wood-frame houses, and not only because of the materials, but also due to high labour costs.
What is the disadvantage of concrete house?
The main disadvantage of raw concrete homes is that they have a very brutal finish if not decorated, and the concrete has to be properly insulated to serve you well. If the proper materials and techniques are used, concrete houses have excellent insulation properties which keep air conditioning costs low. Maintaining tight seals will keep temperatures out!
Over 300 Projects in Chicago and Suburbs
Frequently Asked Questions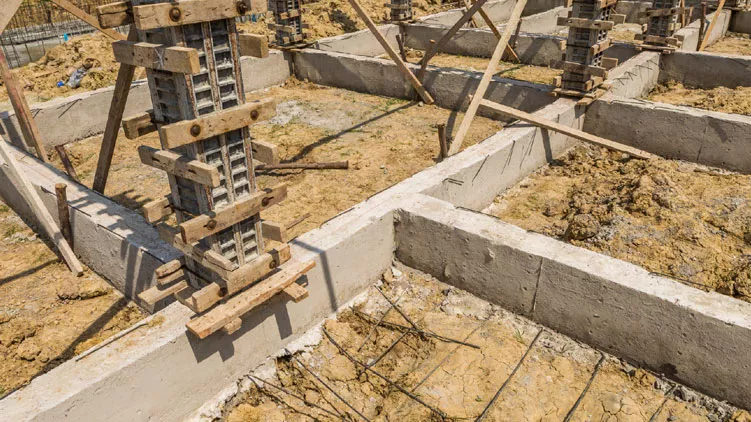 Are concrete homes good?
Yes, they are! They offer several key advantages to future homeowners, such as energy efficiency, durability, and minimal maintenance. Concrete home construction provides environmentally safe, comfortable, and good for health homes that will last generations ahead.
Is building a concrete block house cheaper?
Yes, it is cheaper than building from poured concrete, ICF, and natural stone or wood. But the advantages are massive! Concrete block houses are affordable, environmentally friendly, and super well insulated!
Is concrete house better than wood?
Concrete has a higher resistance against damage over time in comparison to timber. Concrete construction means safer and far more durable buildings which are less costly and much more economical for builders than homes built with the help of wooden frames.
Is a concrete house cheap?
In the United States, concrete house prices are about 4% to 10% higher than traditional wood-frame house prices.
How long does concrete house last?
The average lifespan of a concrete house is 90 years depending on the construction method.
Are concrete houses worth buying?
Definitely! They are affordable, cool in summer, and warm in winter. Concrete construction helps you significantly save on heating and air conditioning costs. But make sure that the house is properly insulated! Give a call to Masonry Chicago at 773 231-5371 and get your free estimate of a perfect concrete home today!
Look at
The Results of Our Masonry Works:
Building with a difference. Before and After: