Get Inspired by Modern Brick House Ideas: Masonry Chicago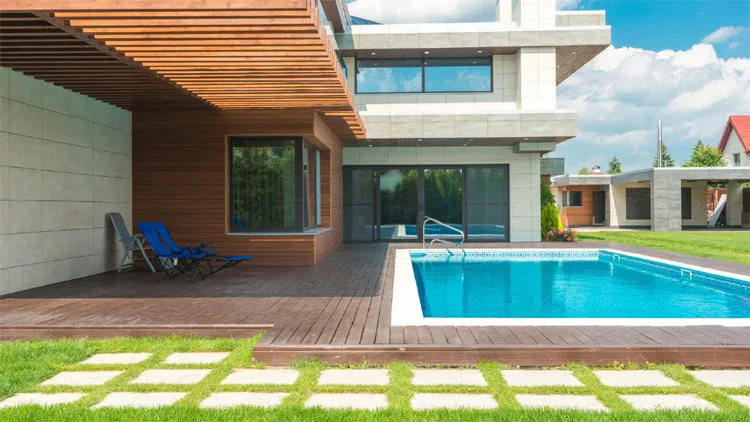 Modern Brick House Building Ideas to Inspire You
When building a new home many people choose a modern or contemporary design aesthetic to make their house stand out from the rows of cookie-cutter tract homes that proliferate these days. When building a modern house many building materials, like wood, concrete, or glass, spring to mind but brick is usually not at the top of the list. Bricks bring to mind images of rustic warmth and 19th Century cityscapes, but these versatile blocks, available in a wide range of hues, can be used to create stunning modern brick house designs. In Chicago, when you think of bricks, think of Masonry Chicago. To discuss your contemporary design ideas with us call 773-231-5371 or email [email protected]
Using Brick in a Modern Home Design
Brick is a wonderful material for building clean lines and angles. Available in colors from reds, pinks, and oranges, to greys, browns, whites, and beiges these beautiful blocks can be arranged in patterns to form attractive monotone or multicolored designs on both interior and exterior walls
Is brick considered modern?
Brick is one of the oldest building materials and has been used for thousands of years, with Ancient Egyptians making sun-dried bricks before the advent of fired bricks around 3,500 BC. So while brick walls and brick construction are not considered modern, there are many modern houses that utilize these beautiful materials through brick cladding, exposed brick feature walls, or brick-built construction, using modern construction techniques.
How do you make a brick house look modern?
Modern design has a strong focus on clean lines, minimalist interiors, open living space, large windows, and lots of natural light. So building modern houses from brick is easier than you might think, with the flexibility and adaptability of this wonderful material. Here are some ideas for getting a fresh take on brick-built modern homes:
Using different colors can give you a contemporary take with bricks being arranged in creative patterns.
Bricks can be arranged in various textural patterns, being staggered or latticed to create textures that come out from the wall.
Mixing concrete, brick, and glass can create a modern industrial feel.
Taking inspiration from traditional design and combining it with contemporary lines can be combined to give a fresh take on a new house in an established neighborhood.
Creating curved brick walls can give a house a futuristic feel and showcase the beauty of bricks.
Perforated brick cladding can create walls or screens that let light in, creating distinctive patterns while maintaining a sense of privacy.
White bricks can give an elegant, clean feel to a structure.
Using bricks in a vertical or even diagonal arrangement, as opposed to the traditional horizontal style can give a contemporary take to a structure.
Colors that contrast with the environment can give a stark modern look.
Using local bricks that naturally blend into the surrounding landscape can give a modern feel, tieing the house into the natural environment.
Add a brick accent wall to your office or kitchen or create a brick fireplace surround.
Create a contemporary loft atmosphere with exposed brick walls.
Reclaimed bricks from local buildings can create modern homes that complement the surrounding properties.
Family-Owned Company. 20 Years of Masonry Expertise
Is brick the best to build a house?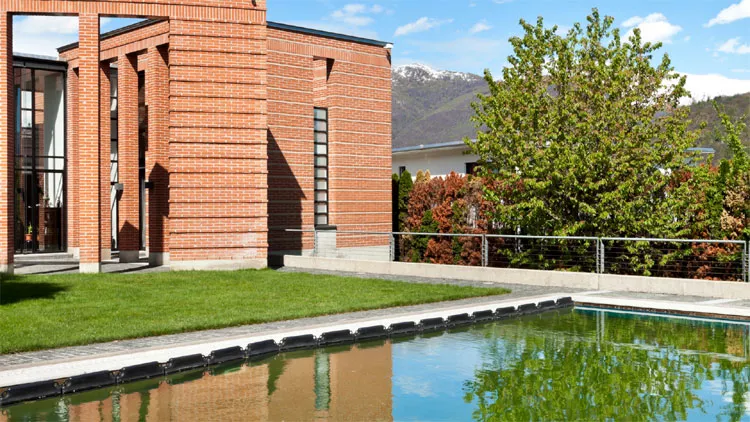 When we talk about brick houses there are two things that we can be referring to. You can either have a solid brick-built house, which is very rarely built these days or alternatively a house with a brick exterior or brick siding. As full brick construction is not the norm nowadays, here we will discuss the benefits of homes that are built with metal or wooden studs, but with a solid brick facade.
What are the advantages of brick houses?
A brick exterior design has many benefits for a house:
Fire-resistant which may lead to lower insurance premiums.
Mold-resistant as bricks naturally absorb and release moisture.
An eco-friendly building material made from abundant natural clay.
Durable and solid bricks last much longer than other siding materials.
Soundproofing with brick walls acting as a barrier to external noises.
Insulation properties of bricks help maintain an even interior temperature.
Lower maintenance than other house-facing or siding materials.
Property values are boosted, with brick exterior walls giving around a 6% increase in home values.
20years of Masonry Expertise
50+professional bricklayers
300+masonry and tuckpointing projects
Ready to start your masonry project?
Family Owned Masonry - Residential Masonry
What are the disadvantages of a brick house?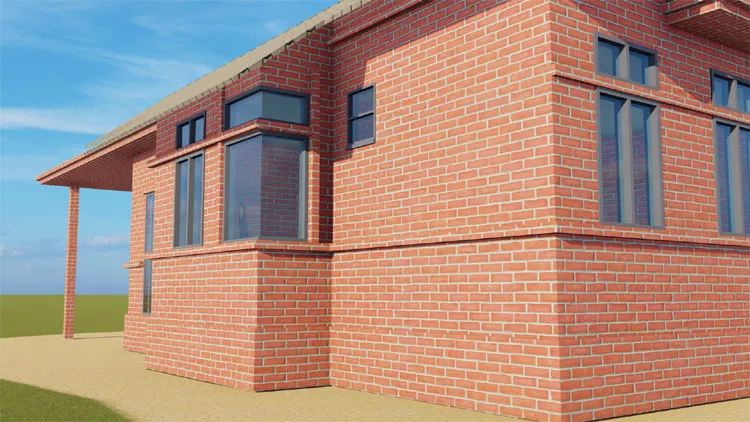 Brick exterior walls also have a few disadvantages:
Costs can be higher than with most other house-facing materials.
Construction times will be longer as brick masonry takes more time than adding other siding materials (except stone) to a wooden framed house.
Over 300 Projects in Chicago and Suburbs
Frequently Asked Questions
Are brick houses in style?
Bricks, as a building material, whether for solid brick construction or brick cladding, never seem to go out of style. Different colors and styles of construction will be more popular from time to time but whether the trend is for a modern black brick house or a modern white brick house the timeless appeal of bricks remains. At present, the trend is for limewashed bricks or a light grey brick exterior.
Are bricks modern?
Bricks are one of the oldest building materials, with evidence of their use almost 9,000 years ago in ancient Turkey. From ancient Egypt, through the Roman Empire, to the gothic period in Germany, bricks have been reinvented by generation after generation. And while today you find brick family home construction that makes use of traditional design, many people prefer to create a modern brick house using these ancient materials.
Are brick homes cheaper to build?
Usually, the construction of a solid brick house will be more expensive than that of a wood-framed house. This is due, in part, to the longer construction times and skills required by the masons. However, this will result in a house that is much lower maintenance than a cheap stick-built house and will last for many, many more years (100+ years), creating a solid legacy for your family.
Can I build my own brick house?
Creating structural brick properties, or a real brick facade is an art and a skill that has been mastered by brick masons over many years. While an amateur builder could happily create small brick garden walls, or even apply thin brick veneer to an interior feature wall, it is not recommended that novices attempt to build brick structures or high brick walls. As bricks are a heavy material making a structural mistake with them can be very dangerous, which is why we always recommend speaking to an experienced masonry company about your modern brick house plans.
In Chicago, Masonry Chicago has been building modern brick homes for over 20 years and their team of expert bricklayers and masons will ensure that your brick modern house is beautiful, strong, and long-lasting. Discuss your ideas for a modern house with brick now: email [email protected] or call 773-231-5371.
Look at
The Results of Our Masonry Works:
Building with a difference. Before and After: