Book Your Appointment for High-Quality Brickwork in Chicago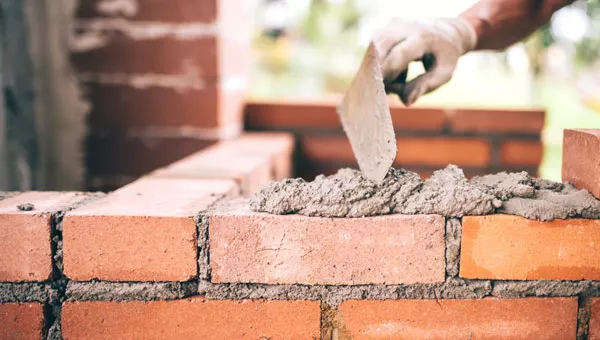 Decided to build from brick? BM International provides quality brickwork services, following the long Chicago tradition. Give us a call for a free estimate.
Brickwork in Chicago: A mix of modern technology and solid masonry traditions
Brick has been a favored medium for construction almost as long as humans have been building things. Strong, durable, and visually appealing — they are quite literally the building blocks of our urban environment, especially here in Chicago.
But even for relatively simple projects, improper masonry can lead to dangerous or unsightly results. If you want the job done properly, it pays to call in a specialist brick and mortar company – hence the enduring popularity of searches like "brick masonry contractors near me."
But what exactly are "brickwork" and "masonry"?
Basically, brickwork refers to masonry made from bricks and mortar. Horizontal rows of bricks ("courses") are laid on top of each other to build all kinds of structures.
Masonry is a broader term that refers to the building of structures from small units made of materials such as brick, stone, concrete block, or marble. So brickwork is a type of masonry.
The enduring appeal of bricks and mortar
The earliest clay bricks go back to 7000 BC when bricks were made by simply drying mud and clay in the sun.
Since then, brick masonry construction methods and brick production have been through waves of innovation. Clay is still one of the main materials used to make brick, but concrete, sand and lime, and fly ash are also common.
Around the world, some of the most recognizable structures are brick public works and other brick buildings. While cheaper construction methods have become widespread with the advent of new materials and technologies, people remain drawn to brick for its solidity, unique properties, and charming appearance. Indeed, exposed brickwork has made a resurgence as a key part of the contemporary "hipster" aesthetic; bricks have never been so hip.
Brick masonry in Chicago
Brickwork has a special history in Chicago. Until the Great Chicago Fire of 1871, the city was built mostly of wood. After changes to building codes, those rebuilding the city turned to clay from the river and surrounding areas for construction materials to make brick works, giving us the Chicago Common Brick which most of the city was built from.
These original Chicago bricks had a rather rough appearance (hence "common") because of the iron, lime, and various stone deposits in clay dug from rivers. Back then, they were deemed too rough for street-facing building facades. But today, reclaimed common brick has become much sought-after for its unique character, having mellowed and weathered with age.
Chicago also stands out for being home to the tallest load-bearing brick build ever made — the Monadnock Building on West Jackson Boulevard.
Family-Owned Company. 20 Years of Masonry Expertise
How to build a brick wall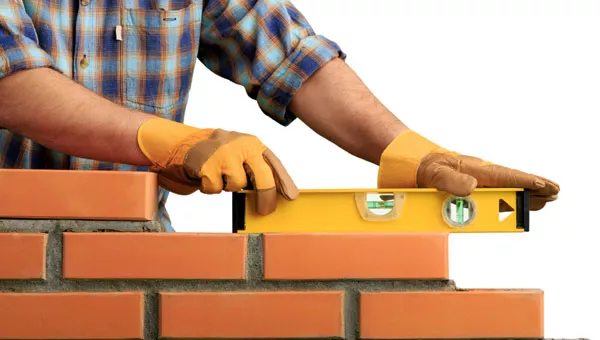 Brick walls can appear deceptively simple. But look closer and you will see that bricks come in various types and are laid in particular patterns ("brick bonds") developed over centuries to suit different purposes.
Types of brick
For brick construction, it is important to use the right kind of brick for the job. Our skilled masons work with a range of bricks, including:
Light weight hollow blocks
High alumina bricks
Fire brick
Concrete bricks
Common burnt clay bricks
Sand lime bricks, calcium silicate bricks, engineering bricks, fly ash, clay bricks
We also work with the following brick sizes:
​​Modular
Roman
Norman
Utility
Meridian
Standard queen or king-sized bricks
3 types of brick bond used in masonry
Brick bonds enhance strength by distributing load across a structure. They also increase stability and achieve a certain look.
Different types of bonds used in masonry vary in terms of appearance, strength, and insulating ability, and are suitable for different types of brick work. For example:
– In running bond — the most common type of brick bond — bricks are laid lengthwise and staggered by half a brick from the row of bricks ("course") below and above.
– In stack bond, bricks are stacked directly on top of each other, with the vertical joints aligned. While great to show off the appearance of your brick, this bond lacks strength and is usually used for interior or non-load bearing walls.
– In English bond, bricks are laid in alternate rows of stretchers (widthwise along the wall) and headers (lengthwise). Although one of the strongest bonds, it is rare today as it uses more facing bricks than other bonds.
Laying bricks and mortar
Once a suitable bond and configuration is chosen, bricks must be laid carefully row by row on a solid foundation according to the set pattern.
Each brick is "buttered" with mortar — a paste of sand, cement and water. The mortar then hardens into mortar joints that hold the bricks together.
While other methods of construction have become mechanized over time, masonry with bricks and mortar remains an art that is highly skilled and labor-intensive.
Building brick wall works is a highly specialized process. Flaws in the materials, mortar, or masonry can lead to a wall that is structurally unsound. So unless you are highly trained, it is best to call in professional masons to do the job properly.
20

years of Masonry Expertise

50+

professional bricklayers

300+

masonry and tuckpointing projects
Ready to start your masonry project?
New Home Builders in Chicago. Custom Home & Remodeling
Frequently Asked Questions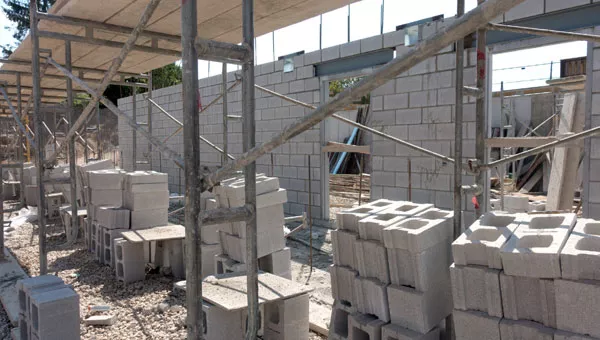 To assist you with your brickwork needs, here are answers to some common questions asked by our customers.
What are some common types of brick masonry work?
At BM International Builders, our skilled masonry professionals can carry a range of different types of brick masonry to the very highest standards. Here are just some of the most common services we provide:
Chimney brickwork
Chimneys serve a crucial function and can add an appealing, rustic look to any structure. However, severe weather conditions in the Chicago area can take a toll on chimney brickwork and make them dangerous or a threat to structural integrity if not maintained properly. Our specialists are experienced in building new chimneys of all types and repairing or restoring existing chimneys.
Seal brickwork
As tough and durable as brick is, a brick wall can be severely weakened by water. Brick is porous and absorbs moisture. Over time, this can cause bricks to crumble and crack. Damp in brickwork can also damage the inside of a building and cause ugly black mold.
That's why it is important to seal brickwork. Applying a sealant can protect exterior walls from water damage and reduce the growth of moss. BM International offers a range of masonry waterproofing and sealing services to protect your home, business, or property.
Brick masonry repair and restoration
If left unrepaired, defects in brick can cause serious problems that can later require more costly repairs. This is particularly so in cold climates like Chicago, where water that enters cracked brickwork can freeze in winter, causing the masonry to expand and worsen the crack.
The professionals at BM International have extensive experience in all kinds of brick masonry repair and restoration projects, whether the damage is caused by accident, extreme weather, or just prolonged exposure to the elements.
Tuckpointing
Mortar plays a crucial role in holding brickwork together and ensuring the structural integrity of a building. But while bricks can last for centuries, cement mortar has a more limited lifespan and generally needs replacing every few decades, a process known as "tuckpointing".
Our specialists are versed in all related techniques and can make sure your masonry construction stays in tip-top condition with a range of tuck pointing brickwork services.
How much does it cost to build a wall?
Unfortunately, this question has the same answer as the question "How long is a piece of string?" — it depends.
Variables that determine the cost include the type of wall (e.g. veneer or load-bearing), the material used, the size and thickness of the wall, the type of bond used (which also affects how many bricks are used), and so on.
Most brick walls are between one and three bricks thick. However, load-bearing brick walls on large structures can be thicker. Chicago's Monadnock Building has walls nearly two meters thick (!) at the base.
Veneer walls, which do not provide structural support and are generally just one brick thick, come in somewhere cheaper.
How much does it cost to brick a house?
If there is no easy answer to costing a brick wall, of course giving a figure for building an entire brick and mortar house is even more difficult due to the number of variables involved. If you would like an estimate for a new build project, please speak to one of our team who can arrange a consultation.
What is "repointing"?
Repointing is another term for "tuckpointing" (see above). It refers to the process when mortar is taken out and replaced ("pointing") and is important to keep water out of the masonry and prevent damage to the brickwork.
Unfortunately, many repointing jobs carried out are unsatisfactory or even unnecessary — so it is vital to find qualified professionals that can give you a trusted evaluation and carry out the work to the highest standards.
It is worth noting that masonry vernacular can vary by geography – in some parts of the US, "repointing" may be used interchangeably with "tuckpointing" or just "pointing."
Over 300 Projects in Chicago and Suburbs
Our quality assured service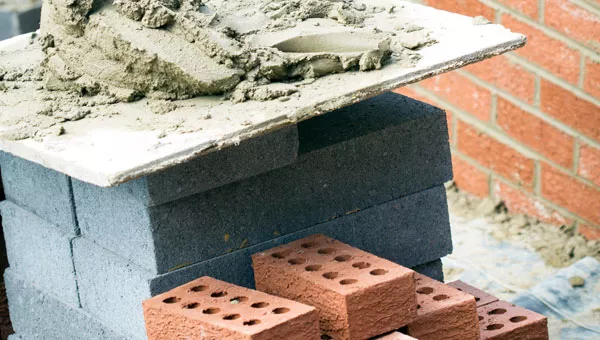 Our skilled masonry specialists have extensive experience in working with a variety of brick types and patterns for any kind of project — whether that be a new brick wall or repairs and restoration of existing brickwork. We are experts in design, masonry evaluation, and following the most exacting brick masonry construction procedure for all construction projects.
So, if you have masonry needs for your home, business or property and are searching for "masonry brick work contractors near me", don't hesitate to give us a call today. We can answer any masonry questions you have, guide you through the process, and arrange an on-site assessment and estimate if you wish to explore further.
Look at
The Results of Our Masonry Works:
Building with a difference. Before and After: