Repair mortar with the experts at Masonry Chicago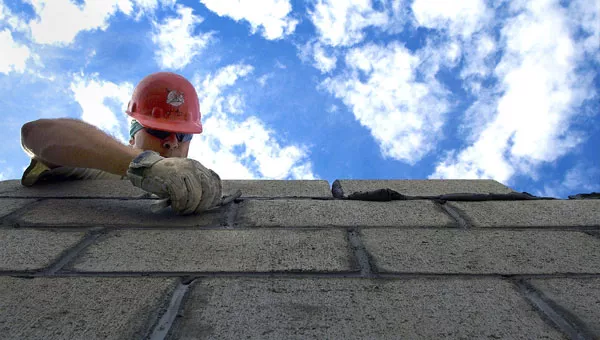 Are you looking for help to repair mortar on your building? Check out this useful guide by the specialists at Masonry Chicago.
Repair mortar with top-quality Chicago-based masonry services
Masonry is a very durable form of construction. But mortar decays over time and needs to be removed and repaired every few decades. Brick mortar repair is one of the most common masonry jobs, which is why people often search for "how to repair brick mortar" or seek out the services of experts in brick repair mortar. In this article, the specialists at Masonry Chicago explain why work to repair brick mortar is an important part of brick wall repair and outline common jobs related to fixing mortar between bricks. We are the home builders in Chicago with more than 20 years of experience.
Why repair mortar?
Well-maintained masonry walls can last for centuries or even longer. But if masonry has a weak point, it is the horizontal joints and vertical joints made of mortar that hold together the individual masonry units such as bricks or cinder blocks.
Over time, mortar joints are vulnerable to damage by the elements and moisture. This is particularly the case in Chicago, where masonry is subject to periodic freeze-thaw damage during the region's cold winters.
This continual weathering can lead to decayed, cracked, or missing mortar on your building.
It is important to address such issues promptly and repair mortar between bricks before it is too late, otherwise compromised mortar can cause more serious issues that necessitate costly structural repairs or even threaten the stability of a structure. Decayed and unsightly mortar can also detract from the appearance of a building.
Family-Owned Company. 20 Years of Masonry Expertise
Residential Construction - Local, Trusted & Efficient
How to fix brick mortar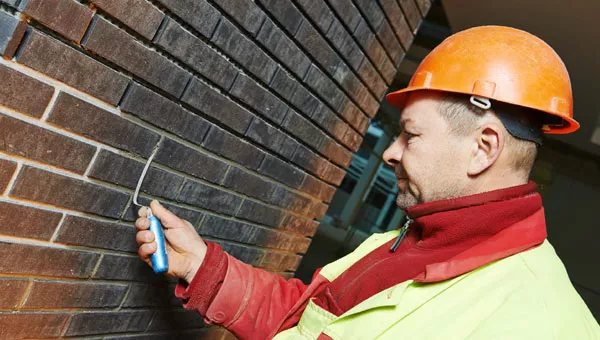 Knowing when and how to fix brick and repair mortar is an important part of maintaining a brick and mortar house or other masonry structure. So, it's no wonder that every year Google is inundated with a high volume of searches for queries such as "how to repair cracked mortar between bricks" or "how to fix mortar between bricks."
The exact process to repair mortars will vary somewhat according to the specific job in hand – for example, whether you are dealing with vertical surfaces or retaining walls, vertical and overhead surfaces or flooring, horizontal joints or vertical joints.
It is important to get the new mortar mix right. This involves adding water to the dry mix until it reaches the right consistency – something roughly like peanut butter.
Prepare the necessary tools and materials
Repairing mortar (repointing) properly requires the right tools and materials. You'll need basic tools such as a brick trowel, hammer, cold chisel, and similar items. You will also need to select a portland cement that matches the old mortar and surrounding masonry.
Can I repair mortar myself?
If the damage that calls to remove and repair cracked mortar is localized to a small area, you might be tempted to have a go at fixing brick mortar yourself with a spot of DIY brick repair.
It's true that there are plenty of videos on Youtube that claim to teach you how to repair mortar in brick in five minutes, with all manner of titles like "How to repair mortar," "how to fix cracks in brick mortar," "how to repair brick mortar joints," or  "how to repair a brick wall."
However, there is much more skill and expertise involved in a job to repair mortar cracks between bricks than can be picked up in a short video on how to repair cracks in brick mortar.
So, unless you are experienced and know how to repair brick mortar cracks, it is probably better to call in the professionals who are experts in knowing how to mix mortar for brick repair properly, how to safely remove all the mortar, and all the various techniques to repair loose brick mortar, repair cracks in brick, and general masonry skills for fixing brick wall.
Repairing mortar is specialized and time consuming work. If the job is not done properly, the bonding between the masonry units may not have the durability required. In the long run, seeking the services of specialists in brick mortar crack repair is likely to be safer and actually more cost effective rather than attempting such masonry repair DIY work yourself.
20

years of Masonry Expertise

50+

professional bricklayers

300+

masonry and tuckpointing projects
Ready to start your masonry project?
Tuckpointing Pros - Don't Overpay, Compare Pros
Our range of services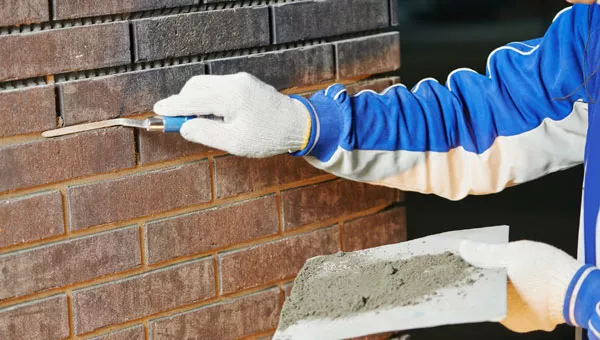 Our masons have extensive experience in knowing how to repair mortar between bricks and can offer a full range of services to repair mortar in brick wall or resolve any mortar crack repair issues you might have with your building.
We can remove mortar from brick and then repair mortars (also known as "repointing brick" or "tuckpointing") on any part of a building made from any masonry material. Some of the more common requests we handle include:
Brick and mortar repair – We can advise you on the best solution for how to repair mortars between bricks and carry out the work to the highest standards, including commercial or residential tuckpointing.
Stone wall repair mortar – Our masons are well versed in how to repair mortar cracks in stone wall and other types of hard stone masonry.
Brick grout repair/brick patch repair
Concrete block mortar joint repair, whether that be for cinder blocks (i.e. cinder block repair mortar/cinder block mortar repair) or fixing mortar cracks and concrete cracks in walls made from other types of concrete masonry units (CMUs).
Chimney and fireplace mortar repair, including chimney grout repair or work to repair cracks in brick mortar on your fireplace
Work on stairs, floors, and walkways. This may include fixing mortar on a concrete floor or tile flooring, or work related to  "repair brick walkway mortar" or "brick mortar repair steps" – in case you need help with how to fix mortar in brick steps or how to fix crumbling brick steps.
Over 300 Projects in Chicago and Suburbs
Masonry Chicago: On hand to help you repair mortar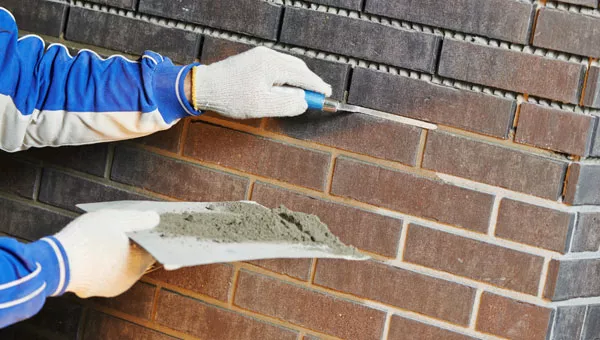 After arranging an appointment, our masons will come out for an onsite consultation to assess the damage and need for mortar brick repair, advise you on the best course of action for how to repair cracked brick mortar, and select an appropriate mortar replacement so that the best mortar for brick repair is used to match the surrounding brickwork.
We have been carrying out work related to mortar repair for cracks and various other types of masonry repair mortar work for satisfied customers across the Chicago area for over two decades. Our commitment to quality and reliable service has made us a favored choice for people that need guidance with knowing how to repair cracks in mortar of bricks or repair mortar cracks in other types of masonry.
Aside from being experts in how to repair mortar cracks, we also offer a full range of masonry services, including brick masonry work, concrete masonry, and other types of masonry units.
Look at
The Results of Our Masonry Works:
Building with a difference. Before and After: