Use Concrete Blocks for Steady & Strong Masonry Structures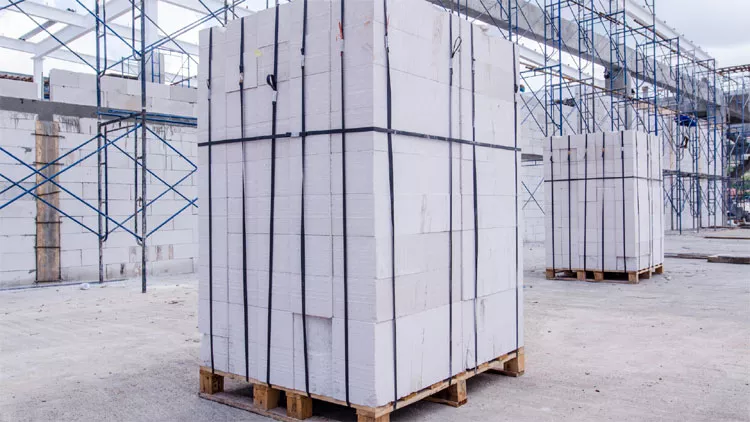 Order Concrete Blocks for Your 2022 Building Project: Masonry Chicago
A concrete block is one of the most commonly used masonry units in both residential and commercial construction. This building material has a very versatile scope of use, it can be molded into different shapes, it is light, strong, and durable. Being relevantly inexpensive and simple in looks, it is builders' choice number one for the retaining walls, non load bearing walls, external links, fencing, etc. It is much cheaper than brick or stone (which you might want to refer to later, for their decorative features).
These hollow blocks' lightweight aggregates multiple possibilities for application.  Throughout 20 plus years of  Masonry Chicago has successfully completed dozens of projects using concrete blocks. Give us a call today on 773-231-5371 if you have any questions on this building material, get a free consultation, or an estimate.
What is a concrete masonry unit?
Concrete masonry units (CMU) are cylindrical structures that are used as a building material in residential or commercial construction. CMU has been categorized as one of the most versatile building products on the market. In non-technical terms, the words "breeze blocks", or "air blocks" are commonly used to describe them.
Family-Owned Company. 20 Years of Masonry Expertise
Concrete Block as a Building Material: Uses | Types
Types of concrete blocks used in construction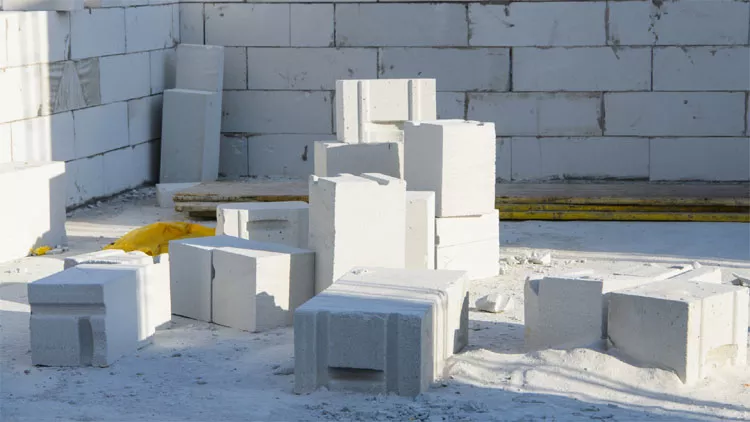 Concrete blocks can be classified into two main kinds: hollow and solid. Usually, they are produced on-site by filling the molds with a special concrete, cement, gravel, and sand mixture. A combination of concrete with cement can make things a bit confusing: cement is a component of concrete. But in this case, its addition is an absolute must for the creation of a solid and strong mixture.
Concrete block walls make a perfect substitute for bricks. Yes, they are not as gorgeously looking: the grey color might need to stay inside of the structure. But by using concrete masonry units, you will definitely appreciate their versatility and durability properties.
Types of hollow concrete blocks
Hollow concrete is available in a range of sizes and shapes: stretcher blocks, corner blocks, lintel blocks, pillar blocks, bullnose blocks, etc. Their usage in construction is very variable — interior or exterior load-bearing and non-load bearing walls, partition or curtain walls, fireproofing, backing from the brick, and other structures. It is most commonly gray, but in some cases, hollow blocks can be black or have other colors. Please find out more about various options by calling the Masonry Chicago hotline.
20

years of Masonry Expertise

50+

professional bricklayers

300+

masonry and tuckpointing projects
Ready to start your masonry project?
Cost of Concrete Block Wall Installation in Chicago
5 main types of solid concrete blocks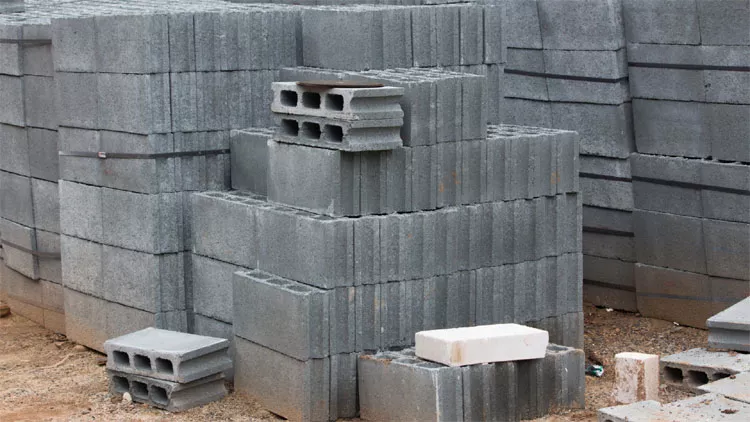 Solid concrete blocks can be used both for the construction of load or non-load bearing walls, partition walls, backing for retaining walls, etc.
1. Aerated autoclaved block
An aerated autoclaved block offers warmth and good air isolation. It is typically lighter than the other kinds and is offered in different blocks, panels, and special forms, including pins for tying and connector beams. It is usually white or gray and can be tailored primarily by constructing side walls, wall partitionings, or similar wall structures — for instance, steel pillars or infill panels. A sealant must be applied in order to reduce any damage. This material has the flexibility needed for the usage of nails.
2. Fly ash block
Flyash is a fine powder that is, mixed with water, produces something similar to Portland cement. Nearly half of all cement in the US contains fly ash. Due to significant saving opportunities, fly ash often substitutes cement in civil construction (e.g. roads, highways). Fly ash bricks provide the ability to absorb CO2 while still being resilient to freezing, prevent cracks, and improve the leak-ability of air in the environment. You could make a smooth or highly detailed surface by using these concrete masonry units.
3. Cellular lightweight blocks
Cellular lightweight concrete (CLC), or aerated concrete, is manufactured from cement, sand, performed foam, and fly ash. The "gas concrete" has been first created in Sweden in 1923 and it is the lightest of all. These blocks are super fire-resistant. They can be easily customized and have different lengths and shapes, but they can also be used for cladding. Medium-density is available for load-bearing and partitioning walls and medium density for non-loaded brickwork.
4. Expanded clay aggregate blocks
Lightweight expanded clay aggregates (LECA) are formed by heating clay to super-high temperatures (above 2000 °F) which makes the gases that it contains expand. In addition to preserving water-proof properties, the lightweight structure of this product allows removing 50% of an overall load from the entire structure. It provides strong heat resistance, even in the presence of vibrations and cold. Because these materials are "cooked" in kilns, they can be shaped into multiple forms and sizes, of different densities.
5. Paving blocks
A paving block is a rectangular square block used for paving roads, walkways, or sidewalks. However, sometimes the curved bricks available vary in width to color — dark brown, charcoal, and darker gray.
Over 300 Projects in Chicago and Suburbs
Stackable concrete barrier blocks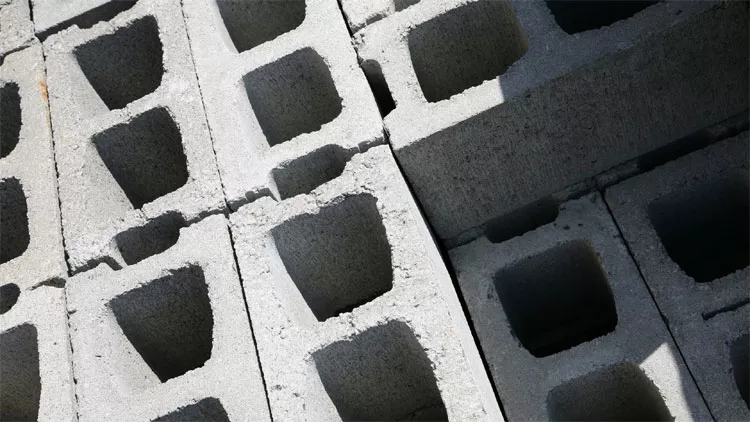 Stackable concrete barrier block is a high-performance and cost-effective material that combines durability and sustainability for the construction workpiece of almost any desired shape. Stackable concrete blocks provide efficient and durable units that can also be manufactured from 100% recycled materials. Most commonly applied for the building of maintaining walls or extending the space between the buildings.
Versatile projects from concrete block walls in Chicago, Il
As you can see, the concrete block world is very multifaceted and comes with a lot of specifics. In order to construct a perfectly solid structure that will serve many generations ahead, it makes sense to trust the job to the professionals. Here at Masonry Chicago, we have been in the construction business for more than 20 years — and you can be sure that the project of any scope will be successfully completed in time, according to all the legal regulations, with care to your budget — and, of course, with the choice of the best materials available on the market.
Frequently Asked Questions
What's the price of concrete blocks?
Get ready to spend $1-$4 per block, depending on its size. Masonry Chicago offers a variety of options: give us a call on 773-231-5371 for a free estimate!
What is the difference between a cinder block and concrete block?
The difference is in the materials they are manufactured from. Cinderblocks are usually produced from concrete or coal cinder, concrete blocks, on the other hand, are made from wood, cement or steel.
Are concrete blocks cheaper than concrete?
Yes,  poured wall panels cost about 20% less compared to brick-based walls. But in order to understand the final budget for your project, you can always call Masonry Chicago specialists on 773-231-5371 and inquire about the prices.
Look at
The Results of Our Masonry Works:
Building with a difference. Before and After: