Chimney Tuckpointing by Masonry Chicago | 20 Years Experience
If you see signs of damaged or missing mortar on your chimney, you might want to read this guide to chimney tuckpointing by the masons at Masonry Chicago.
Chimney Tuckpointing Services in Chicago: Call Us for a Free Estimate!
Like on any part of a building, mortar on chimney masonry can deteriorate over time. In this article, the masons at Masonry Chicago run through what is involved when it comes to re pointing chimney, what variables affect the cost to repoint chimney, and other things you should know if you are about to look for "chimney tuckpointing near me". Call us at 773-231-5371 for a free estimate!
Why tuckpoint a chimney?
The principle behind chimney re pointing is basically the same as for tuckpointing any masonry wall.
Mortar joints play a vital role in holding the masonry of a chimney together and ensuring its structural integrity. Cement mortar used in chimneys and other masonry has a limited lifespan and typically needs to be replaced every few decades.
Indeed, this is particularly important for chimneys as they are exposed to the elements and can present a danger if they become structurally unsound. This is where the tuck pointing chimney comes in. Choose "Custom home builders near me" wisely. Check out the online customer reviews and ratings.
Tuckpointing terminology variation
Sometimes people get confused by the terms repointing and tuckpointing. The process of replacing existing mortar on a chimney is known variously as "chimney tuckpointing", "re pointing a chimney", or just "pointing a chimney".
Actually repointing and tuckpointing refer to the same thing, it is just that the usage varies in different states.
Family-Owned Company. 20 Years of Masonry Expertise
How to Do Tuck-Pointing on Brick Chimneys
How to tuckpoint a chimney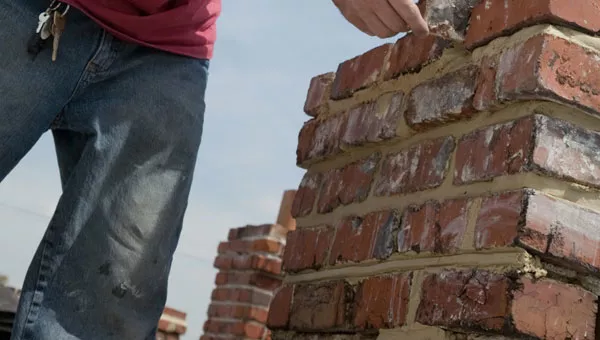 The basic process of tuckpointing mortar joints on a chimney is much like that for any masonry, though of course the elevation and location of a chimney can add extra complications and challenges.
The method for removing old mortar is typically carried out by hand with great care to avoid causing any damage to the existing chimney masonry. Once the mortar has been taken out, the joints are then cleaned up using a vacuum or brush.
The new mortar is then applied in layers. When tuckpointing a chimney, it is important that the mason uses fresh mortar and materials to match the surrounding brickwork. Otherwise, there may be a glaring contrast from the mortar joints when comparing the tuckpointing before and after if the new mortar does not match.
How much does tuckpointing a chimney cost?
Many factors affect chimney tuckpointing cost. These include the size and type of the chimney, the state of the existing masonry, and other factors involved in preparation and tuckpointing chimney repair.
If you would like an estimate of the project cost to repoint a chimney on your building, please speak to one of our professional advisors.
How long does tuckpointing last?
As a homeowner considering tuckpointing your chimney with new mortar, you might want to know how long the tuckpointing job will last.
While bricks or stone can last a century, a mortar joint typically lasts for much less time — around 20 to 30 years, depending on exposure to the weather, how well the tuckpointing is done, and the type of new mortar used.
20

years of Masonry Expertise

50+

professional bricklayers

300+

masonry and tuckpointing projects
Ready to start your masonry project?
Our chimney tuckpointing services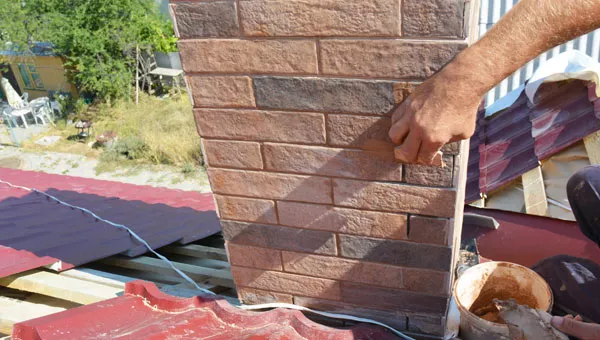 Whatever the state of your chimney, our masons can offer a range of tuckpointing chimney services to keep the masonry in tip-top condition.
In addition to chimney re pointing, the specialists at Masonry Chicago have extensive professional experience in all kinds of masonry services, including the following:
Quality assured with Masonry Chicago
Masonry Chicago is based in Chicago and our specialist masons have extensive experience in chimney pointing.
Over the past two decades and more, Masonry Chicago have become among the most sought-after tuckpoint chimney service providers in and around the city of Chicago. We are often recommended to people in the region who are looking for "masonry chimney repair near me" by our previous happy customers.
We take seriously our commitment to craftsmanship and carrying out chimney tuck poin jobs to the very highest standards.
Speak to us today
If you are considering chimney tuck pointing and are searching for "chimney repointing near me" then why not contact one of our advisors today at 773-231-5371. Our team are ready to discuss any questions you may have and set up an on-site consultation if requested.
Over 300 Projects in Chicago and Suburbs
How do I know if my chimney needs tuckpointing?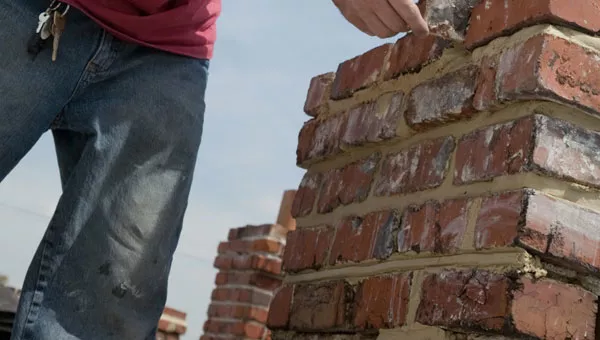 Missing, cracked or loose existing mortar on your chimney might be a sign that chimney tuck pointing is needed. If the damage is more than just simple aging and wear of the mortar joints, it is important to diagnose the root of the problem as there could be other underlying issues with your house to be addressed.
Often, it can be difficult to examine chimneys and mortar joints to assess the damaged mortar. If you are in doubt, the specialists at Masonry Chicago can advise you and arrange an on-site inspection of your chimney.
Look at
The Results of Our Masonry Works:
Building with a difference. Before and After: