How Build a Basement Affordably: Order it at Masonry Chicago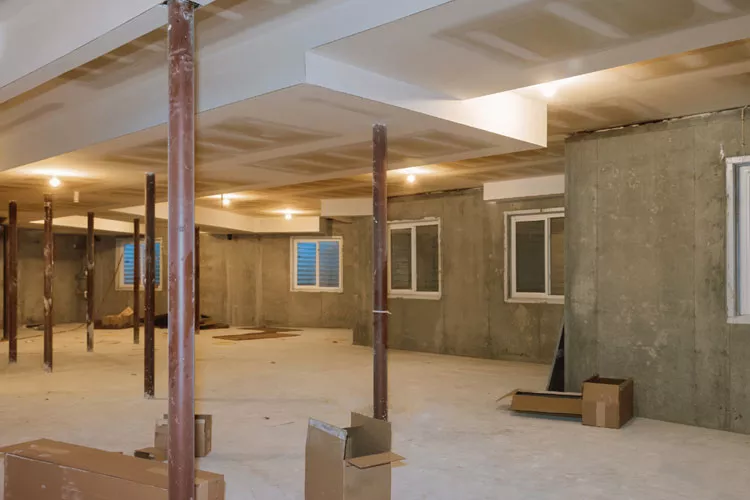 How to Build a Basement Cheap and Fast in Chicago in 2022
When building a new house or addition one of the decisions you need to make is whether to include a basement or not. Basements may cost more than standard concrete slab foundations but have many advantages, especially in areas where land price is high – giving you lots of extra valuable living space. There are various types of basement construction to choose from and various factors you need to take into consideration.
American home builders follow solid traditions, and must comply with all of the legal regulations.
To understand all your options and to get the best prices for high-quality basement foundation construction in Chicago, contact Masonry Chicago on 773-231-5371 or email [email protected]
Why build a basement?
When building a new house your foundation is one of the first decisions you make. Do you want a simple concrete slab or do you want to build a basement? While the cost of a basement foundation is higher than a concrete slab, the additional space it gives you is almost always worth the cost, allowing you to save money in the long run as your family grows.
Basements are great for adding extra square footage to a house, which can simply be used for storage or to create a den or games room, which can be a huge boon for large families.
Family-Owned Company. 20 Years of Masonry Expertise
Strong House Foundations: Materials, Weight, and Process
The 4 types of basement construction
Your basement contractor will be able to recommend the best construction method for your basement wall construction, based on your home's location, but here are the four main options.
1. Poured concrete
The most common type of basement construction method is poured concrete, where forms are put in place for the concrete slab and poured concrete walls, and the concrete is poured into place and allowed to cure. This gives strong and solid basement walls which are not very susceptible to leaks.
However, leaks can happen if cracks appear in the walls or in the joins between the walls or the walls and floor.  Regular waterproofing (every 10 years or so) is important to keep your poured concrete walls dry.
2. Concrete or masonry blocks
If you want a cheaper basement walls construction option then concrete blocks, cinder blocks, or masonry are good options. As well as being cheaper this method to build walls in basement is quicker to build too. While plain block walls are not very strong they can be reinforced with steel rebar.
One downside to basements constructed this way is that they are much more likely to leak, especially through the mortar in between all the individual blocks. Water can also get trapped inside the blocks for extended periods of time, causing long-term moisture and damp problems.
3. Insulated concrete forms (ICF)
A new technique for building basement walls is using insulated concrete forms (ICF). ICF basements are generally more expensive to build but can be lower maintenance going forward than other concrete basements, due to their well-insulated nature.
Insulated concrete forms are made from polystyrene foam and are used instead of wood forms before you pour concrete and the forms aren't removed. This means an insulating layer is added into the concrete as well as a vapor barrier.
4. Precast Panels
Another option for basement building is precast panels which are much more efficient to assemble than poured concrete walls. This concrete wall system is made offsite and moved to the construction site for installation.
They are a strong and water-resistant option, due to the type of concrete used, but have the same areas of weakness as a poured concrete basement – along the wall and floor joints.
20

years of Masonry Expertise

50+

professional bricklayers

300+

masonry and tuckpointing projects
Ready to start your masonry project?
Custom Basement Remodeling - Durable, Resilient & Recycled
What to consider when building a basement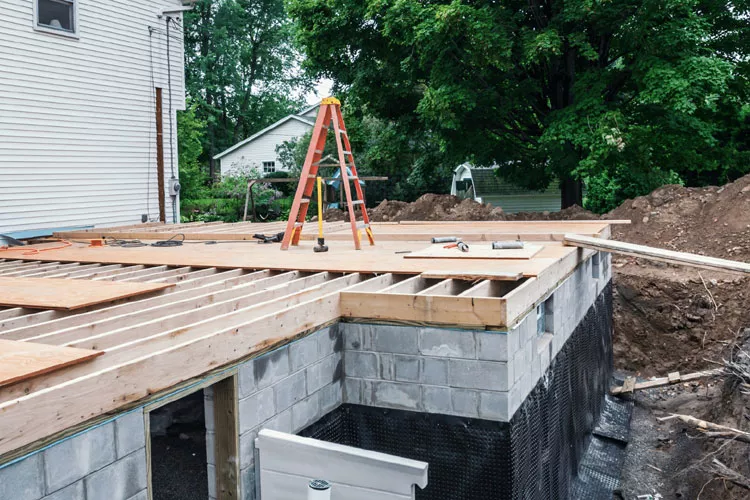 When planning how to build a basement there are several important things to consider.
Permits
Before you even ask the question "how to build a basement foundation for a house?" you need to check that basements are permitted in your area under the building codes. Zoning laws cover construction vertically (up and down) as well as horizontally, and in some areas, basements are not permitted.
A consultation with an experienced local general contractor or concrete masonry expert, like Masonry Chicago, will help you understand what is allowed where you live. Working with a professional should also help with getting planning permission and passing any inspections when the home inspector visits.
You should also note that you may well also need a permit to simply finish or remodel a basement.
Water issues
Most issues around basement construction and ongoing maintenance are to do with water. When you have an underground house it's vital to keep the moisture from the soil from getting in.
Before you start work you need to do a proper survey of the building site to check for any underground water sources and to check the water table. A high water table means your foundation walls and basement floor need to be extra water-tight.
Poured concrete is generally the best bet for keeping water out, as it has very few joins for water to get through. It's also easy to repair and re-waterproof in the future. Your builder will need to add a vapor barrier to waterproof the whole area, to ensure you have a warm, dry living space.
Insulation
Although the soil itself provides some insulation it is still very important to add insulation to basement walls for any areas that will be habitable space. Well insulating your basement walls will ensure you have a space that is warm in winter and cool in summer, keeping your utility bills down.
Ventilation
Your house naturally ventilates through the exterior doors and windows, but your basement doesn't have this luxury. This can lead to a build-up of moisture and stuffy air, if not properly managed.
Your builder should always add some natural or mechanical ventilation to ensure good airflow, especially if you have a bathroom in your basement.
How do you build a new basement?
If you're wondering how to build an unfinished basement or how to build a basement wall here's a quick outline of the process.
Clear the site and set out the basement outlines.
Excavate the site, clearing away the excess soil.
Shore up the excavation site.
Level and compact the soil at the bottom of the trench.
Put in place forms for the footings and place any reinforcement bars.
Pour the concrete for the footings and slab foundation.
Build your basement walls – either using blocks, poured concrete, or precast panels.
Place your basement roof.
Put in place drainage.
Waterproof the walls.
Over 300 Projects in Chicago and Suburbs
Frequently Asked Questions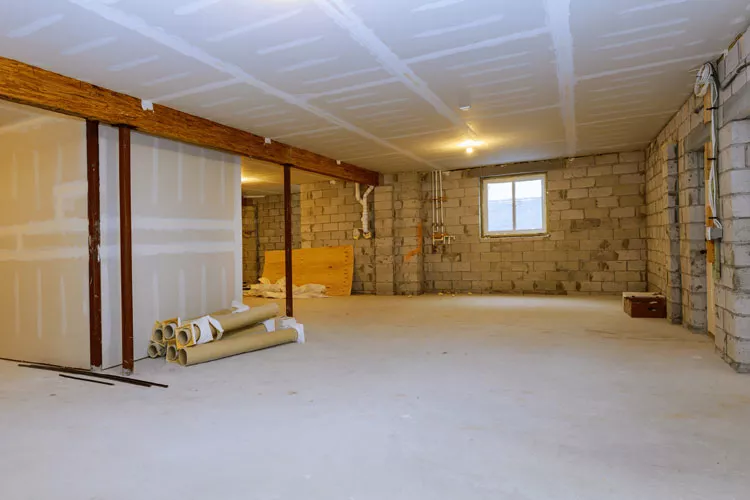 What is the cheapest way to build a basement?
Generally, the cheapest way to build basement walls is with cinder blocks or other masonry blocks. This is also usually faster to construct than a poured concrete wall, as you don't have to wait for the concrete to cure. You can use reinforced concrete blocks to ensure the walls are strong.
Are basements expensive to build?
A basement foundation is more expensive to build than a concrete slab, but the cost per square foot of livable space is very reasonable, especially if you have a small lot and are building in an area with high land prices.
The cost to build a basement foundation will depend in part on whether you want a finished or unfinished basement.
An unfinished basement costs from $10 to $25 per square foot
A finished basement will set you back between $30 to $100 per square foot
The higher the level of finish the more expensive your basement will be, but the more use you are likely to get from it and the higher the resale value of your property in the future.
What to know before building a basement?
Here's a quick checklist of things to consider before building a basement:
Are basements allowed in your area under local building codes?
Is the soil on your lot suitable for basement construction?
Is the land at risk of flooding and how high is the water table?
What will you use the basement for?
What will the plumbing and electrical requirements be?
Are you working with an experienced contractor who has built basements previously?
Have you considered drainage, ventilation, and waterproofing?
How do you lay a brick basement?
Building a brick wall basement is not a common method to build a basement but it can work well, as long as a high-quality damp proofing course or waterproofing layer is used to keep out moisture.
Specific types of mortar should also be used to ensure the brick walls are strong and long-lasting in the moist conditions of an underground room.
Can you brick a basement wall?
If you are finishing your basement and want to have the pleasing aesthetic look of a brick wall, putting up brick facing or brick veneer on your basement walls can be a wonderful idea.
While this is a job that an experienced home DIY enthusiast can undertake, as there are issues around building permits when finishing a basement it is always best to consult with an experienced masonry and basement construction company, like Masonry Chicago, before undertaking any work. For a free, no-obligation consultation speak to the team today at 773-231-5371 or email [email protected]
Look at
The Results of Our Masonry Works:
Building with a difference. Before and After: