Chimney Repair Chicago: High Quality Service & Good Prices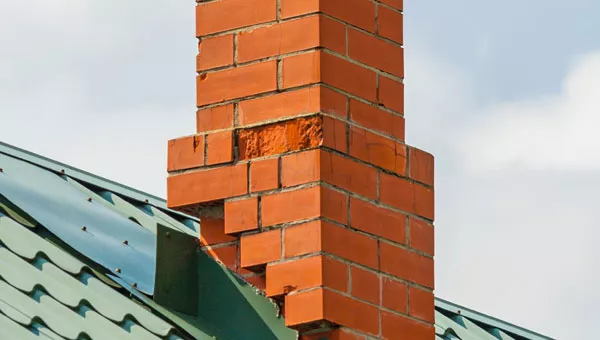 Chimneys are susceptible to damage and proper maintenance is vital. To learn more, read this guide to chimney repair by Masonry Chicago.
Quality Chimney Repairs in Chicago for Safe, Cozy and Warm Homes
Of all the masonry work on a building, chimneys are among the most exposed to the elements and susceptible to damage. No wonder so many people find themselves searching for "chimney repair near me" each year. If you are in need of chimney repairs, looking for chimney repair contractors, or wondering about chimney repair cost, you might want to read this guide prepared by Masonry Chicago's chimney experts.
A well-made chimney is built to last – but not forever. In places like Chicago, the elements and cold winters take their toll on masonry chimneys over time. Mortar joints and chimney tops that are exposed to the weather are particularly vulnerable.
The risks of chimney damage
If not addressed in time, damage to chimneys can worsen and lead to the need for more major repairs or even threaten the structural integrity of the chimney. For example, water penetrating cracks in a chimney can cause bricks to crumble following freeze-thaw cycles that expand and contract the masonry.
Good chimney maintenance is also important to protect the occupants of your house. Each year, thousands of chimney fires occur across the US. This is often caused by the build-up of flammable chemicals such as creosote on the chimney walls which can then ignite at high temperatures. In addition, compromised chimneys can also allow harmful gases to seep into the house.
Fortunately, with regular chimney inspection and good maintenance, you can minimize these risks and keep your chimney in good condition so it can continue to do its job of safely taking smoke and other gases out of your home.
Chimney repairs are specialist work and it pays to call in professionals to do the job properly. That means doing your research when searching for "chimney specialists near me" to ensure that you find qualified experts that can advise you on fireplace chimney repair and execute the work to the highest standards.
Family-Owned Company. 20 Years of Masonry Expertise
Chimney Repairs - Free Estimates
How do I know if my chimney needs repairing?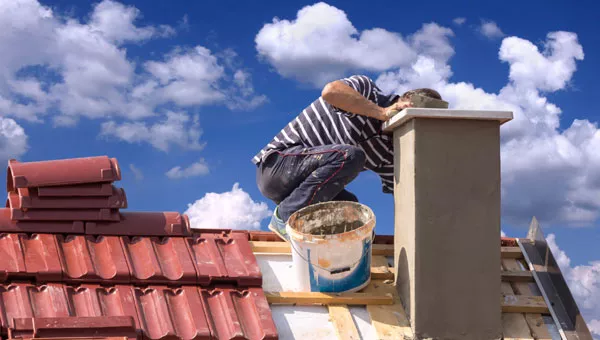 Damage to chimneys is not always immediately visible, so it is important to have regular inspections (see below) and watch out for tell-tale signs that your masonry chimney might need repair work. These include:
Decaying, cracked, or missing mortar joints
Debris falling into the fireplace, which can be a sign that the chimney flue is beginning to deteriorate
Damage to brick and mortar on the chimney such as crumbling brick (spalling) or masonry falling off the chimney
Signs of excess moisture on inside walls near the chimney – such as damp wallpaper or damaged paint
Cracks on the top of the chimney
The importance of regular chimney inspections
All too often, the need for masonry chimney repair goes unnoticed because periodic inspections are difficult to do, especially when you don't know exactly what to look for as a homeowner.
To keep your masonry chimney in sound condition, Masonry Chicago can arrange an annual chimney inspection so we catch any signs of deterioration early and resolve them. We use specialist equipment such as video cameras to reach otherwise inaccessible areas to build up a comprehensive assessment of the health of your chimney.
Of course, if inspections reveal that there is a need for fireplace and chimney repair work, we can advise on the best course of action and carry out any essential chimney masonry repair work. "Custom home builders near me" would offer you the unique designs and floor plans for your residential project.
20

years of Masonry Expertise

50+

professional bricklayers

300+

masonry and tuckpointing projects
Ready to start your masonry project?
New Home Builders in Chicago. Custom Home & Remodeling
What are the common types of chimney and fireplace repairs?
Over the years, the experienced chimney builders and repairers at Masonry Chicago have handled all kinds of masonry work related to chimneys. Here are some of the most commonly requested local chimney repair services:
Flue repair
Flue repairs (also known as chimney flue repairs or fireplace flue repair) are worth a particular mention as they are an important part of chimney maintenance. The flue of a chimney plays a crucial role as the vent that transports harmful smoke safely up through your house and out of the chimney top.
Compromised chimney flues can allow harmful substances created in the combustion process to seep into your house or increase the risk of fire.
Older flues are often made of clay tiles laid inside the chimney. Over time, moisture, heat, and general corrosion can cause the mortar to deteriorate. It is also possible that the tiles themselves can crack.
There are different ways of repairing a chimney flue depending on the extent and location of the damage. Given the difficulty of accessing the inside of the flue apart from at the very top and bottom of the chimney, these often involve specialist methods and the retrofitting of flues made from modern materials.
Other chimney repairs and services
Other chimney and fireplace maintenance services we offer include:
Chimney cleaning. Cleaning is an important part of chimney maintenance, as the build-up of by-products from combustion can impair the functioning of the chimney and also present a fire risk. If it has been a while since your chimney was cleaned, it might be time to start looking for "chimney cleaning and repair near me" to have a thorough chimney sweep carried out.
Fireplace repairs. Over time, the masonry work on a fireplace can deteriorate, even if located inside. One common fireplace repair job is tuckpointing to repair aging mortar joints. We also perform full fire safety and stability inspections on fireplaces. If you are looking for a fireplace service near me, please give us a call and we will be happy to assist you.
Fixing chimney leaks. Older chimneys can be prone to various kinds of leaks. If water drips down your chimney in heavy rain, this could be due to ineffective covering on top of the chimney. But there are also less obvious potential sources of leaks such as moisture build-up, damaged tiles, decayed bricks, or a problem with the flashing. Such issues must be fixed promptly as excess moisture can cause further damage to the chimney masonry.
Chimney repair or rebuild. We can repair or replace any particular part of a chimney such as a damaged chimney crown or chimney cap. In cases of serious damage to the masonry, such as if a row of brick in the chimney begins to loosen and shift, a partial rebuild of the chimney might be necessary to prevent further deterioration of the whole structure.
Chimney tuckpointing. As with any masonry, the mortar joints on a masonry chimney deteriorate over time. If you see loose, decayed, or missing mortar on your chimney, it might be in need of tuckpointing.
Retrofitting of modern dampers and fireboxes to replace aging materials.
Over 300 Projects in Chicago and Suburbs
How much does it cost to repair a chimney?
Chimney repair cost varies widely according to the extent of the damage, what type of repair is needed, and other factors such as the location, size, and height of the chimney and the materials needed for the repair work.
What is certain is that timely repairs to a masonry chimney are much cheaper than waiting for the problem to develop into something more serious that can only be fixed with major repair work. In that sense, any money spent on chimney repair cost is a worthwhile investment.
If you would like a more exact quote, then please contact our team today. Our associates will be happy to discuss the various costs for masonry chimney repairs and set up a follow up assessment on-site if required.
Can you repair a masonry chimney yourself?
It might be tempting to try and carry out simple chimney fix jobs by yourself. However, structural and safety considerations mean improper repair work can lead to serious problems and even a risk to the safety of the occupants of your house. That's not to mention the heights involved when it comes to fixing parts of a chimney such as a chimney top.
So, unless you are an experienced chimney fixer, it is really best to start looking for a qualified chimney mason near me that is experienced in chimney repair service.
Quality chimney repairs with Masonry Chicago
Based on our consistent track record of top-quality masonry work and excellent customer service, Masonry Chicago has gained a reputation as one of the leading chimney contractors for Chicago fireplace and chimney masonry work.
Our reputation and our long list of satisfied customers means we are one of the most frequently recommended chimney repair companies when it comes to people searching for terms like "chimney contractors near me" or "fireplace and chimney repair near me." When it comes to fireplace chimney repair, we stand by our commitment to craftsmanship and delivering excellent value for the customer.
If you are considering building a chimney – or just want some guidance on any issues regarding repairing a brick chimney or any other type of masonry chimney, please contact us today.
One of our associates will be ready to discuss any questions you might have and set up a follow-up consultation if requested.
A trusted and reliable service
We know trust is of the utmost importance when it comes to looking for "chimney repair companies near me."
At Masonry Chicago, our professionals always make an extra effort to ensure that our customers understand if and why masonry repairs are needed. We often use video, photography or other visual aids to show you what condition your chimney is in and run through the various costs involved if repairs are needed.
Other services from Masonry Chicago
In addition to chimney fixing, we are able to offer a full range of masonry services from our in-house experts if you are searching for other types of work related to "masonry near me."
This includes new build projects such as brick chimney construction, as well as a whole host of general masonry repair services such as brick waterproofing and brick repair.
If you are building an entire house and looking for "new home builders near me" we are also standing by ready to discuss your needs and arrange a consultation as requested.
Look at
The Results of Our Masonry Works:
Building with a difference. Before and After: