Build a Cinder Block House Fast & Cheap | Masonry Chicago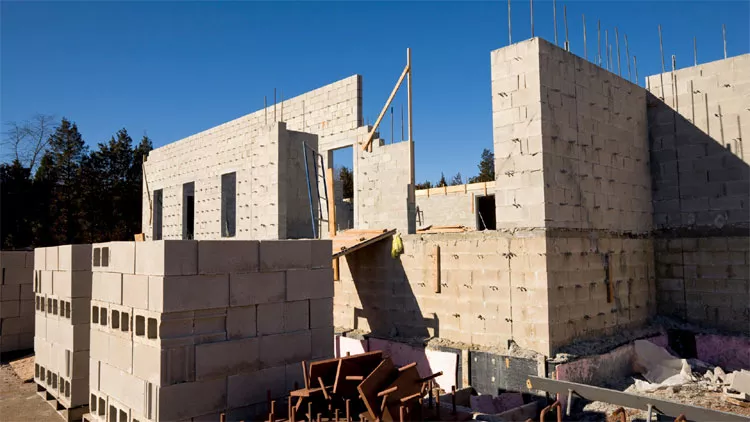 Get Your Cinder Block House Built in 2022 by a Legend! Choose Masonry Chicago
Amongst the land prices rising and the scarcity of land increasing, cinder block construction is rapidly gaining popularity in the U.S. Cinder block houses are affordable and quite easy and fast to build. The house plans with cinder block walls can be super versatile — you can get a spacious residence or a modest, low maintenance healthy home.
Low cost is probably the main characteristic why homeowners choose this type of construction. Here at Masonry Chicago, we have been in the construction business for more than 20 years. We know all the little details in order to build a strong, warm, and cozy home for you from just about any masonry material available on the market. Give us a call today on 773 231 5371 and let us know your budget to find out your best option, get an estimate — or a free consultation from our pros.
What are cinder blocks?
Cinder blocks are a type of concrete masonry unit (CMU), widely used in residential or commercial construction. Usually, they are produced from a mix of concrete, coal cinders, sand, and cement. They come in various forms and, therefore, are easy to assemble. Concrete blocks from cinder have one to five cut-out cavities in the center and have a rectangle shape. The builder can cut them in half, or shape them according to the structure he's constructing, too.
One of the main characteristics of this building material — it cannot withhold big weights because of the lower density and lightness. This CMU is mostly found in non-bearing walls, — retaining walls, fencing, outdoor structures, separation walls, etc. It is never used for building foundations, bearing, or basement walls. Nonetheless, this does mean that the final result does not have structural integrity. It does! But this concrete block construction has to be performed by the real pros in order to assure safety and compliance with all of the legal regulations.
Family-Owned Company. 20 Years of Masonry Expertise
What kinds of cinder block houses you can build
There is a multitude of home construction projects that can come to life with the help of cinder blocks:
Modern cinder block house that requires a comprehensive concrete wall system
Small cinder block house with lower utility bills and low maintenance
Concrete house in need of a minor or a substantial renovation
Outdoor structures that don't need serious bearing walls
All types of fencing, including garden fences
Any building structures that do not require a serious construction process and bear high weights
Concrete homes, requiring an urgent change of a floor plan
Why a house from concrete blocks?
This building material is very versatile and allows to build a house for an affordable price. But as in any sphere of residential construction, it is strongly advised to seek cooperation from an experienced builder, who knows how to work with it. The licensed builder with a good portfolio will know that the construction of a cinder block house requires special skills — no matter if it is a new house or a long-awaited home improvement. He will definitely know that the future residence will require additional insulation, which will help to keep it cool in summer and warm in winter, reduce heat transfer, and lower the utility bills.
How much does it cost to build cinder block house walls?
The average cost of a single cinder block is $1-4. Add the extra price of labor, the purchase of different materials, and the total building price will come to around $10-12 per wall. Many other factors will determine your overall budget, such as your location and the design of the house. Want to find out how much you will need to spend on the upcoming project and discuss your ideas? Call Masonry Chicago on 773 231-5371 and have a chat with one of our specialists today!
20

years of Masonry Expertise

50+

professional bricklayers

300+

masonry and tuckpointing projects
Ready to start your masonry project?
Family Owned Masonry - Residential Masonry
Pros and cons of cinder and concrete block house construction
Concrete is used as a binding material in almost all buildings, including stone, brick or wood, clay or glass. But there are some fundamental differences between a cinder or concrete house construction. Therefore, cinder blocks and concrete blocks are frequently compared with each other. Let's see the differences:
They have similar shapes but are fundamentally different in the mixture content
Concrete walls are used as bearing constructions, cinder — never
Cinder blocks may last up to 80 years if maintained properly, compared to the lesser average age of wood frame houses
Both cinder and concrete block walls require an extra decorative layer
With a proper layer of insulation, cinder block houses are energy efficient
How do you keep a cinder block house warm?
While the cinder block keeps the house warm during the summer heat, it can't hold it well during extremely cold winters. These relatively "empty-cored" blocks allow heat transmission across both sides. Therefore, after the frame construction has been performed, the insulation process comes in place. Modern effective insulation methods involve extra exterior walls, using rigid foam, and sealers for interior and exterior insulation, and finishings. For the living areas that need drywall finishings, preliminary insulation is essential.
Over 300 Projects in Chicago and Suburbs
How long do cinder block houses last?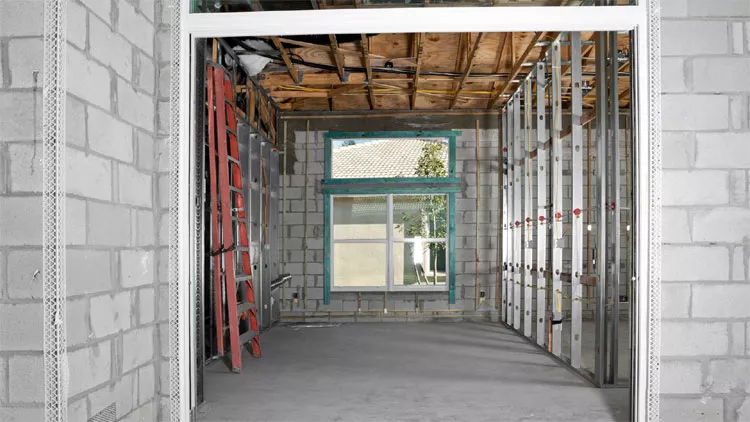 The life span of a cinder house is dependent on many factors, mostly being the components and the quality of a cinder concrete mix. If built properly by professionals, a block construction structure lasts up to 50-80 years. Cinder aggregate provides a less sturdy material that may not effective for longer periods of time. So, most likely it is not a material of choice for multi-generational homes. Cinder blocks usually require maintenance: waterproof coatings in about every 10 years.
Frequently Asked Questions
Are cinder block homes cheaper to build compared to wood framing?
No, cinder blocks cost more than wooden frames. First of all, cinder blocks are more expensive to produce. Although prices may come as little as 95 cents, the average cost is $1 – $4 per individual block. Moreover, when counting the construction price, mortars and rebars used in the building process have to be taken into account. And last, cinder block construction requires more labor and specialized equipment that increases the total cost of a cinder block house.
How to build a cinder block house?
In order to build a perfect cinder block house, you need to find a professional masonry company with relevant experience. What does it mean? It means that this builder has to be an expert in the area of cinder block residential construction: he has to obtain all the necessary legal licenses, his portfolio must contain many successfully completed works, and his official website — present many real customer reviews. This company will offer you the best cinder block house ideas, will provide you with the real cost to build a cinder block house, and make sure that your dream home will last generations ahead!
Can you make a house out of cinder blocks?
Cinder blocks have the potential as inexpensive materials for the construction of your new home. Not only are cinderblock houses very simple and basic, but they are structurally sound and solid as well.
Are cinder block homes cheaper to build?
Yes, they are. An average price of a cinder block is $1 – $3 per block, from $50 to $250 per linear foot, or $15 – $30 per square foot of a wall.
Why are houses built with cinder blocks?
Because cinder blocks are very versatile in use, light, and affordable. A cheap cinder block house is a very good option to get your little residential paradise in no time!
Look at
The Results of Our Masonry Works:
Building with a difference. Before and After: