Get Foundation Block Built by Pros | Masonry Chicago
Build Foundation Block in 2022: Affordable, Fast, Durable!
Being the base of any building, foundations are the key factor for their structural integrity and safety. In the case of the concrete block foundations, the name speaks for itself: they are constructed from concrete or cinder blocks that are stacked on each other in a manner of bricks. The concrete block foundation is sturdy and heavy weight-bearing. It can withhold more weight than the poured concrete one, so if you are planning to build a relevantly heavy residence, definitely go for it. In this article we will explore all of the specifics: compare a block and a poured foundation, and check out the pros and cons of the main types of foundations.
No matter what foundation block you are going for, you have to be 100% sure that it is built by specialists. Only experienced contractors can guarantee a safe and sturdy result. They will have an in-house or an invited structural engineer, they will know how to comply with the local building codes, where to purchase the best materials, and so on. Here at Masonry Chicago, we have been in the concrete block foundation business for more than 20 years. Give us a call now on 773 231-5371 for free professional advice or an estimate of your project.
Family-Owned Company. 20 Years of Masonry Expertise
Kinds of block foundations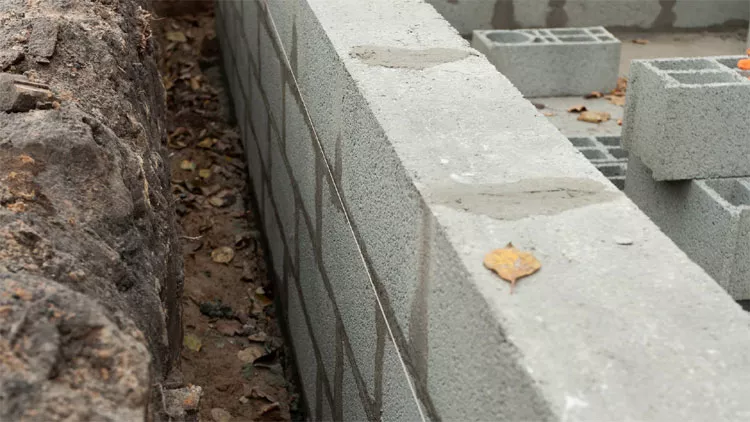 Basically, a foundation block comes in two main types: concrete or cinder blocks.
Cinder block foundation: pros and cons
Cinder block foundation is a more affordable version. Aggregate in its concrete mix contains ash, or coal cinder, which makes it light and easy to assemble. This factor, though, affects the weight-bearing properties of cinder blocks: they cannot withhold heavyweights, therefore, are not used in bearing walls construction. Fencing, retaining walls, interior walls — is the best implementation of this concrete masonry unit (CMU).
Concrete block foundation: pros and cons
A concrete block foundation can withhold more weight, it is more durable than the cinder one, and it is used in bearing walls construction. Foundation walls of this kind are strong, fire-resistant, eco-friendly. They are about 1,5% more expensive than the cinder ones.
Block sizes
The standard wall blocks size is 8 x 8 x 16 inches. They have two straight sides, two vertical cores, and two notched corners. The block length is about 16 inches, which provides an approximate mortar joint of three inches. The corner blocks have three sides for finishing the corners. Half-width blocks, 8 x 8 inches, can be ordered with two straight sideways and three horizontal sidewalls for the sidewalls and corners.
20

years of Masonry Expertise

50+

professional bricklayers

300+

masonry and tuckpointing projects
Ready to start your masonry project?
Cost of Concrete Block Wall Installation in Chicago
How much is to build a block foundation?
The final budget that you will spend on your block foundation will depend on its area. Typically, builders charge from $10 to $20 per square foot, which makes the price range $8000 – $20,000 and more. In order to get an exact quote, give a call to our specialists today on 773 231-5371.
How to build a block foundation
Sizing
The first step of laying the block foundation. The corners of the future foundation walls are marked with slabs, installed in the ground. Once the corner is secured, a building crew runs a string in order to mark the remainder of the block. The brackets used to attach the string are known as dogbones or line stretchers. Sometimes the wood corners are used.
Footing
Footings create the basement that lies underneath the foundation wall. They are wider and longer than a future wall will be. Their function is to distribute the weight of the wall and the structure above it and to provide a solid surface that resists the sinking and shifting of the whole building. Usually, the depths of an underground footing range between 6 and 3 feet, depending on the area of the construction site. Then the rebars are placed along, for an extra level of reinforcement.
Stacking
Concrete blocks are stacked against each other in a manner of bricks and held together by a mortar mix. The process begins at the top of the footing and each row forms an individual course. After laying the initial block course, the lines are set, with the help of laser detectors. It is important for creating a balanced structure. The block is then re-welded by steel in vertical spaces. After the wall reaches its destined height, the process stops and the walls are left to set.
Block foundation vs poured foundation
Both types of block foundations (cinder and concrete) need waterproofing, especially if the local soil is prone to flooding. The gaps and grouts in concrete blocks make the leaks very probable. The poured concrete foundation is made of one solidified material that perfectly withstands water pressure. At the same time, a concrete block foundation has the advantage of retaining a higher density than poured walls.
Over 300 Projects in Chicago and Suburbs
Masonry Chicago block foundations services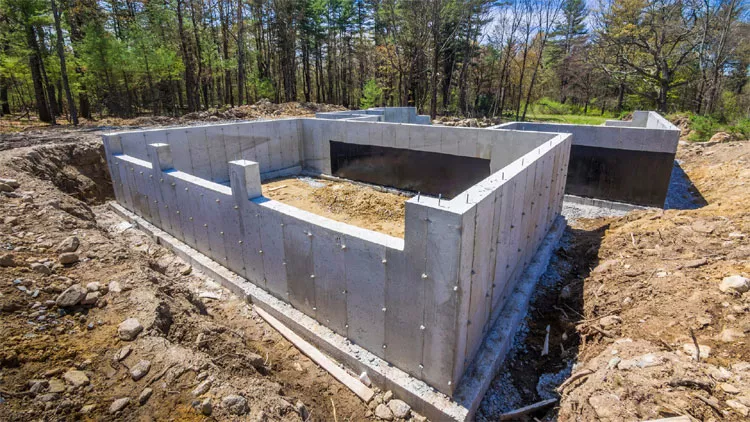 Concrete block foundations construction/repair
Cinder block foundation repair/construction
Deck block foundation construction/repair
Waterproofing of concrete block foundations
Block and beam foundation services
Concrete block column foundation
Cement block foundation construction
Frequently Asked Questions
Is concrete block good for foundation?
Yes, it is very good for strong and high weight-bearing foundations! These CMU blocks are reinforced by steel bars and mortar and offer the proper compression strength to support horizontal load loads in foundation walls.
How long does a cinder block foundation last?
On average, a foundation block wall made of cinder will serve 80 years. A concrete block foundation's usual lifespan is around 100 years.
Which is cheaper: concrete block or poured foundation?
Block walls from concrete are more expensive than poured concrete foundations. To know the estimate for your project, give a call to Masonry Chicago on 773 231-5371. But on average, the price difference is around 20%.
Look at
The Results of Our Masonry Works:
Building with a difference. Before and After: