Build a Concrete Block House with Masonry Chicago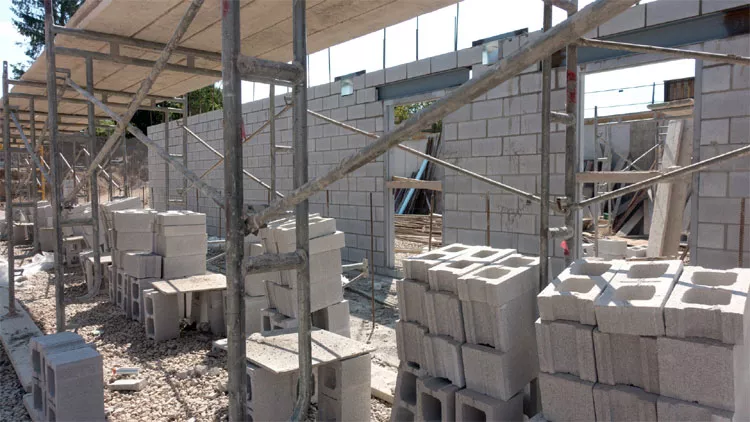 Get your Concrete Block House This Year: 2022 Guide by Masonry Chicago
Concrete block house construction is one of the most popular choices for future homeowners. Concrete block is a very strong, energy-efficient, eco-friendly, soundproof, fire-resistant building material — and houses made of it will last a few generations ahead. By choosing this type of home, you will not just get a true fortress that will last generations ahead but will also protect the health and wellbeing of your family.
Modern concrete block house plans can be very versatile: small or grand residences, indoor design solutions, or outdoor buildings. Concrete walls are suitable for residential structures of any configuration. Sounds good but do you feel like you could have a chat with an expert? Give us a call at Masonry Chicago on 773 231-5371. We have been in the concrete block construction business for more than 20 years, and our specialists would be happy to assist with any building project that you have in mind. If you need a massive, or low cost concrete block house — we are ready to assist in making this goal come true!
What are concrete blocks?
Concrete blocks are concrete masonry units (CMU) that consist of cast concrete (e.g. Portland cement, which has to be certified by Portland Cement Association), different aggregates such as gravel or sand, and water. Concrete blocks can be solid or hollow, with 2-3 voids. The standard size of this CMU is 8 inches high, 8 inches wide, 16 inches long. Their use in construction is very versatile, they are light and durable. Concrete walls can be used both for indoor and outdoor structures. Very often the grey exterior walls would be hidden by a facing.
Family-Owned Company. 20 Years of Masonry Expertise
10 main benefits of the concrete wall system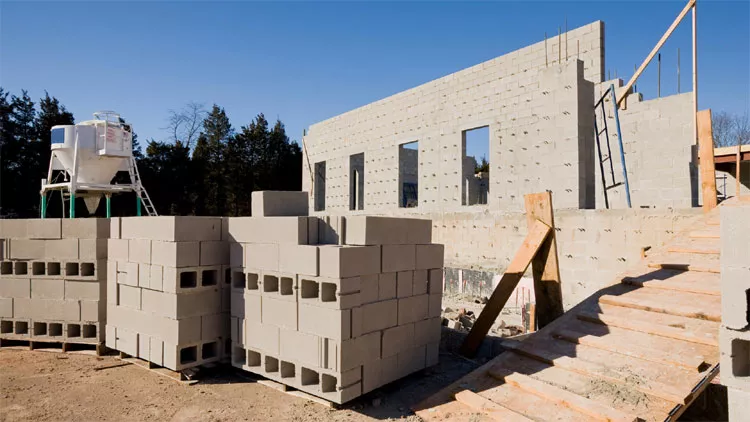 Durability and structural integrity secure the multigenerational use of concrete block houses
Versatility: suites residential construction projects of any scale and home designs
Super strong and durable: can be used for bearing walls
Good for interior walls / outdoor construction
Stronger than poured concrete: ideal for foundations
The perfect building material for basement walls
Help to construct the energy-efficient home
Low maintenance: lower utility bills because of less heat transfer and air leakage
Usage of concrete blocks allows you to get a healthy home: keeps pollution and outside allergens away
Helps to prevent many health conditions: from immune system disorders to central nervous system diseases
Usage of concrete blocks in home construction
New construction: from a big residence to a small concrete block house
Concrete block house makeover
Outdoor structures — gazebos, patios, walls, fencing
Home additions
20

years of Masonry Expertise

50+

professional bricklayers

300+

masonry and tuckpointing projects
Ready to start your masonry project?
Cost of Concrete Block Wall Installation in Chicago
How to build a concrete block house step by step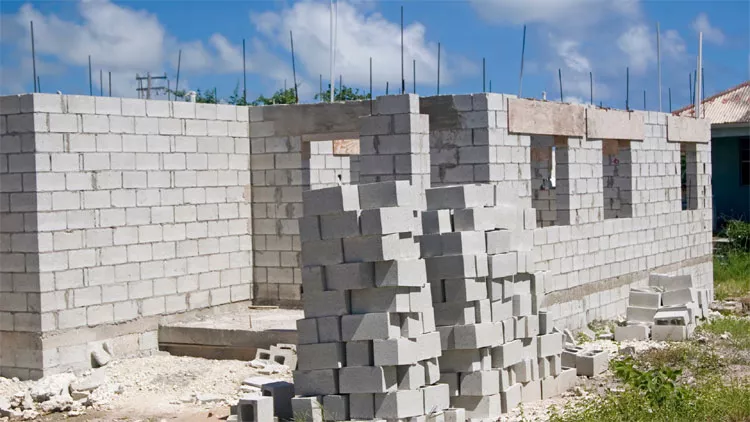 Only having relevant expertise can allow you to build a house from concrete blocks. We highly advise referring to professionals when you are ready for your brand new home. The usual building process inquires these steps:
Step 1: Corner marking
This step marks the location of the house on the plot. The builder will use stakes that he will place in each order of the future house with the help of the hammer or a mallet. A twine line is used for making sure that the lines are ideally straight.
Step 2: Foundation preparation
During the second step, the builder will lay the footers — which must go at least 12 inches in. Footers' size strictly depends on the area of the future house, and the block walls, but it has to be at least 4 inches wider than the wall. After the footers are laid, the foundation preparation process begins. Metal rebars are installed in about every 4 feet of the foundation area.
Step 3: Corner laying
Builders use an S-type mortar for laying the corners: it connects the blocks that are used for corner laying. To bind them together, mortar and a trowel are used. Every side of every 90-degree corner must have at least 6-8 blocks. A square and a hand-level are a must-use in this process!
Step 4: Walls construction
This step consists of placing line blocks. Running from one corner to the other, a nylon string helps to make those walls straight! Concrete blocks are stacked onto each other as the wall is gradually being built. Window and door frames are fitted when the wall reaches its height and area of placement.
Step 5: Finishing building the walls
The cavities of the walls with rebars in them are filled in with a mortar mix. Usually, for a small concrete block house, the builder tops the wall at about 9 feet in height. The bolts have to sit for at least 24 hours before the lumber boards are placed on the tops — the future roof location.
Step 6: Installation of the roof, windows, and doors
The roof of the house is placed over the lumber boards, the windows and doors are installed and fixed. Now the concrete house is almost ready — it's time for the exterior finishing touches!
Step 7: Exterior wall design
The final style of your concrete home will depend on the choice of design, color, and materials. A concrete wall can be covered with wooden panels, faux stone, a cement plaster finish… you name a few! After the exterior wall design is finished and the builder handles you the keys from the brand new doors, another exciting process begins the interior decoration. Let your inspiration guide you and enjoy finally moving in! In case of any questions, call Masonry Chicago 24/7 customer service on 773 231-5371!
Over 300 Projects in Chicago and Suburbs
How long do concrete block houses last?
The lifespan of a concrete house depends on many factors. Mostly — which aggregates are used in the concrete mixture. Usually, a concrete house with the predominance of sand in the blocks will have an estimated lifespan ranging between 80 to 100 years.
Cinder block house, on the contrary, will be less durable, 50 to 80 years. Due to aggregates in the mixture, cinder blocks are lighter, can withhold less weight, and cannot be used for the bearing walls. Therefore, cinder block houses will serve homeowners less than concrete block homes. Also, they require higher maintenance, such as an application of a waterproof coating about every 10 years. But cinder blocks are perfect for indoor, retaining walls, fencing, and other outdoor construction.
Frequently Asked Questions
Is a concrete block house good?
Yes, it is very good! There are multiple benefits of concrete block house construction: durability, strength, perfect insulation, energy efficiency, eco-friendliness, etc. Concrete block homes will not just serve you for generations ahead, but will also protect your health from environmental pollution and outside allergens. A healthy home with thick walls will prevent air leakage and reduce heat transfer. Sounds appealing? Give a call today to Masonry Chicago on 773 231-5371 and get your free estimate.
Are concrete homes cheaper to build?
A concrete house is cheaper to build compared to brick or natural stone houses. It is more pricey, though than houses of wood frame construction, or cinder block houses.
Can you build a house with concrete blocks?
Sure, you can! In fact, concrete block construction is one of the most demanded services of residential builders. A concrete house is a very smart choice: it is a true fortress! Strong, durable, well protected from any weather or outside environment, well-sealed and insulated, cool in summer and warm in winter — basically, everything you might want from a dream home! And, good news, you can easily get a low cost concrete block house if you order it from the pros! Want to know more? Give us a call on 773 231-5371 and get a free quote today!
Are wood frame houses more expensive than concrete homes?
No, in fact, concrete homes will cost you more. Home construction with wood frames is cheaper and will serve you fewer years: concrete walls and foundations will serve for generations ahead. That's why homeowners often prefer concrete blocks to wood.
What is cheaper — concrete block homes or a cinder block house?
Cinder block houses cost less than concrete block houses. An average price range of cinder blocks — $1 – $3 per block. Concrete blocks are typically 20% more expensive. Expect your builder to pay up to $5 per concrete block. And if you want to be 100% sure of the quality, check that the product is certified by Portland Cement Association!
Is cinder block house warm?
Yes, but concrete houses are warmer. They provide better insulation and a more solid structural integrity which will keep the house warm in colder months of the year.
Look at
The Results of Our Masonry Works:
Building with a difference. Before and After: