Order Concrete Floor Slab Installation | Masonry Chicago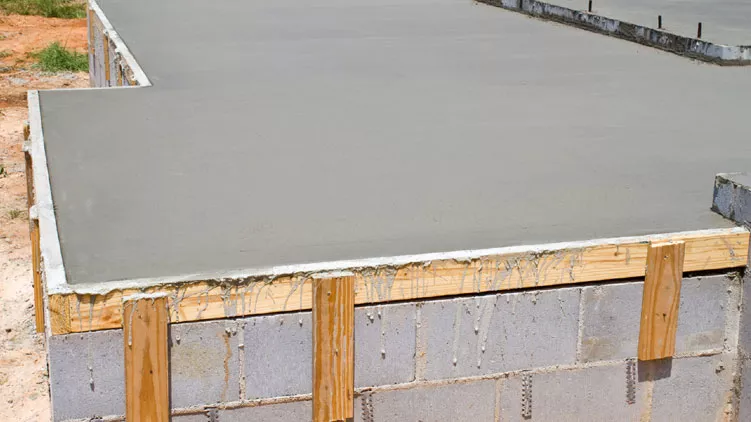 Get the Concrete Floor Slab Installed Cheaply in 2022
Concrete floor slab construction is one of the most popular options in both residential and commercial building industries. The popularity of the concrete floor slab is determined by its relevant affordability and superior strength and durability. In fact, it is hard to imagine a quality building that doesn't have a solid supper in form of this kind of flooring!
No matter what project lays ahead of you, consider floor slab construction! This method will secure you solid, durable, low-maintenance flooring that will serve many generations ahead! Here at Masonry Chicago, we have been in concrete construction for more than 20 years, and have hundreds of successfully completed projects in our portfolio. Our architects and designers will create a perfect style for your project, our high-end structural engineer will guarantee the quality of the floors and will implement measures that prevent cracking during the planning stage, and our builders will make sure that the concrete construction goes to plan!
Sounds appealing? Dial 773 231-5371 now and book your appointment or get a free estimate!
3 main benefits of concrete floor slab construction
1. High density
Concrete is very dense and has a long life span. But concrete floor slab construction must be performed by specialists that make sure that all of the processes — from the formwork of the concrete mix to reinforcement, from the final position of the blocks to curing concrete — are performed immaculately. Looking for the right contractor in your location? Give a call to Masonry Chicago at 773 231-5371 and be sure that your future building will be structurally solid and faultless!
2. High thermal mass
In comparison to the other building materials, a concrete floor slab has many significant life advantages. Concrete floors have high thermal mass, which is super handy in providing comfortable environments. Floor slab comes in multiple varieties and is suitable for building comfortable, weather-resistant, warm in winter, and cool in summer homes and commercial spaces.
3. High versatility
The versatility of this material allows concrete construction of buildings of absolutely different styles and designs — from modern and high-tech, to classy and restrained.
Reinforced concrete slab floors
Reinforced concrete slab floors in buildings are very common. The reinforcement process is done with the help of special composition that includes silica sands, cement, water, gravel, and additional materials. Mixes can be created either manually or with a help of a mixer. The different proportion of the "ingredients" of the composition determines the final result. Mixes that use more water can be more easily handled, while a high percentage of cement creates a more durable result.
Family-Owned Company. 20 Years of Masonry Expertise
How Much Does Repairing a Brick Wall Cost?
Concrete floor slab construction process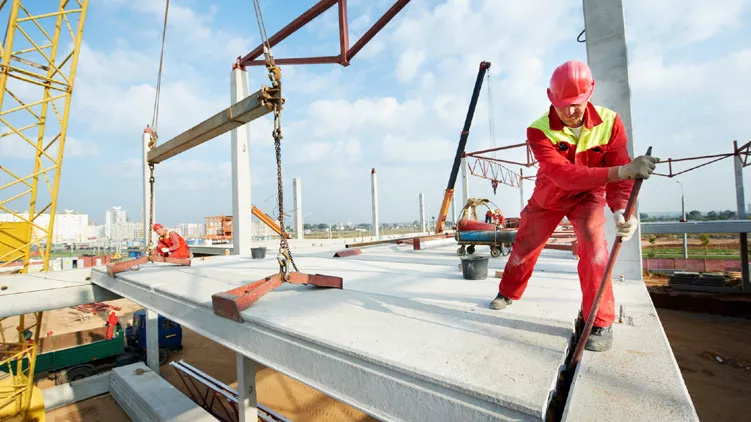 The concrete slab flooring construction process consists of the construction of forms, installation of reinforcements, and curing the concrete.
Create the formwork
After the mixture is ready, it is time to shape it into molds, which is called formwork.
Make the mixture
Portland cement is a commonly used cement type for slab floor construction. RDiverse cement mixtures are available now, including ones containing high percentage extensions (to about 85%) that replace Portland cement. They can include fly ash, ground blast furnace slags, and silica fume which is a waste material originating in other manufacturing processes. In recent developments, reactive magnesia has been used combined into Portland cement for cement applications. Replacing part of Portland cement with waste material can significantly lower gas emissions, making the building greener.
Install in-slab heating if needed
Since concrete slab offers an enormous thermal mass, it makes them ideal for long-term in-slab heater systems installation. Slab heating is recommended for homes that remain permanently occupied, including the entire winter. But in order to retain the heat, the house must be properly insulated!
Insulate the slab
An uninsulated slab in homes can keep average surface temperatures up to 9 feet deep. According to where you live this might not be desirable! In colder states sure, a good option, in colder states you might want to add an extra insulation layer to keep your house cool.
Think the finishing through
Covering slabs with insulated surfaces like carpets, tiles, and concrete finishes reduces thermal loss in the building. To make your floor look chique, you can use one of the two most popular techniques — polished or stained concrete. Stained finishes are available in a variety of colors and styles, however, while applying, avoid rubber-based adhesives which have the extra insulation effect. Some say that darker coloration with matte surfaces is more practical than bright, glossy color, but the choice is all yours!
Install slab floors for the better acoustics
Concrete slabs are generally used to reduce audio noise from one floor or room to another. Keep in mind that open-plan homes are less protected concrete-wise, therefore, can be noisier! A professional architect will include the optimal solutions based on your family or business needs during the process of drafting the floor plan.
20

years of Masonry Expertise

50+

professional bricklayers

300+

masonry and tuckpointing projects
Ready to start your masonry project?
Chicago Concrete Estimates - Full Service Construction
Types of concrete slab floors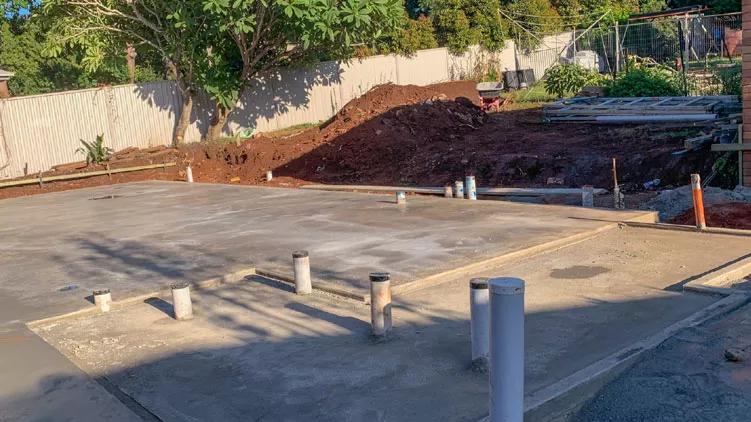 Some types and forms of concrete slabs are better suited specific sites and climates.
Slab-on-ground
There are two types of slabs-on-ground: conventional slabs with deep excavated beams and waffle pod slabs that stand above ground and have voids created by expandable polystyrene foam pods. Standard floor slabs can be insulated below the wider floorboards, and waffle pods can be placed underneath.
Precast slabs
Precast blocks are produced offsite and are placed by crane or poured onto concrete molds. It could be constructed from conventional or post-tensioned reinforced concrete or autoclaved aerated concrete.
Using cement concrete floors in different sites
Reactive soil sites
Sites with reactive soils are often challenging to construct on, however, a float-in stiffened raft slab can handle this. Many stiffened rafts – also called waffle rafts – use regular void forms featuring tightly spaced and deeply reinforced beams that run across their underside. Void forms are insulated foam boxes that contain expanded insulation for the slabsб but alternative ground-coupled solutions can be found. For example, recycled tires or reused detergent containers loaded with water and grouped in raws.
Steep sites
Steep places may make slab construction impossible. But there is always a solution! A suspended slab may allow gaining thermal energy from steep terrain. A permanent structural formwork is often seen as the most efficient method to build elevated suspended slabs. Suspended concrete flooring is possible for masonry or timber structures and is easily installed in place.
High winds
Concrete slabs are used particularly in cyclonic areas to anchor the building against extreme winds. Designed for complete compliance, the structure requires a holistic design process.
Concrete slab floors in renovations
Renovations often involve concrete slabs, even though the original buildings were completely lacking them. A new room can be totally built by installing a suspended slab! During the renovation process, in the ancient rooms with wood floors, it is often feasible to replace the wood with concrete. This creates extra thermal strength and keeps the floors quiet underfoot (nobody likes that squeaking!). The termite protection of the old structure requires attention to the joints, and the use of proper cement mixtures.
Environmental impact of concrete slab floors
Concrete is composed of three components: coarse abrasives (stone), sand, and cement. A water-filled mix creates a solidifying reaction. Concrete's major environmental impact is emissions primarily from cement extraction and extraction of raw material.
Recent innovations
The development of new geo-concrete and magnesium cement can reduce its carbon footprint. These new types of cement absorb carbon dioxide and significantly reduce carbon emissions. Alternative concretes incorporating low-energy, such as hempcrete are also becoming more and more popular. Using hemp fibers and lime binders, the building's carbon dioxide is segregated throughout its lifetime.
Using recycled aggregates
Reducing waste materials in recycling sites reduces energy consumption, lowers bills, and protects the environment. In some cases, a 30% recycled aggregate can be used in typical concrete flooring. The builder has to keep the differences in the structural integrity or concretes with recycled aggregates, however, if a professional construction engineer indicates the final mixing proportions, the final result will have the needed density and strength. Right now the industry is looking at the possibility of using 100% recycled coarse aggregate in concrete flooring.
Over 300 Projects in Chicago and Suburbs
Frequently Asked Questions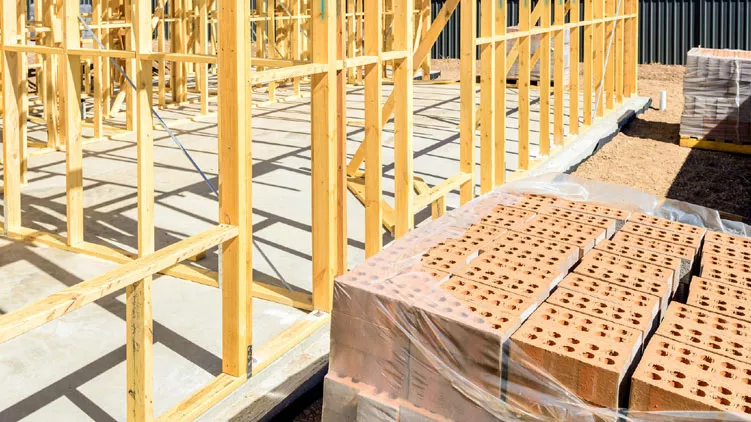 What is concrete slab flooring?
A concrete floor slab is a floor formed from concrete (often reinforced by steel) that is installed in any type of residential or commercial building. Because of its strength and structural integrity, it is often used in foundations, basements, and ground floors.
How do you lay a concrete slab?
Create the forwork
Dig out the area
Add the gravel
Create the concrete mixture
Pouring the concrete
Screed the surface
Finish the concrete pad
How thick concrete slabs should be?
Standard concrete slab floor thickness (in residential construction) is 4 inches.
What is a reinforced concrete floor?
Generally reinforced concrete is a concrete slab that has two parallel surfaces on both sides and the interior is supported by steel beams. A point to be emphasized is the incorporation of steel bars on the surface to form reinforced concrete. Concrete can be used on construction sites with a high durability requirement.
How much does it cost to lay concrete floor slab?
A national average price is $6 – $7 per square foot (including material and labor).
Look at
The Results of Our Masonry Works:
Building with a difference. Before and After: