Order Residential Concrete Floors Cheap | Masonry Chicago
Residential Concrete Floors: Get Now With a Discount in Chicago
Concrete floors are affordable, durable, strong, and can have an absolutely stunning look. Choose flooring from polished or stained concrete, and create a unique design in any residential space — from the living room to the patio, from the kitchen to the bathroom.
Here at Masonry Chicago, we have been in the flooring business for more than 20 years. We provide a full spectrum of services to our clients — from manufacturing and design to maintenance and repairs. Because of our expertise as specialized concrete flooring contractors, we possess special concrete grinding & resurfacing equipment, and our specialists have successfully completed dozens of projects.
Our mission is to serve the residential construction industry through affordable & environmentally sustainable concrete flooring solutions for a wide variety of markets. Looking for ideas for your residential concrete floors? Search no more, just dial 773 231-5371 to book your appointment or get a free estimate!
What are residential concrete floors?
Residential concrete floors are basically all types of concrete flooring used in various living spaces. The most popular options on the market today are residential polished concrete floors and residential stained concrete floors.
They are becoming more and more popular as the industrial-chic trends are being introduced and minimalist designs have become commonplace. But actually, you can install concrete flooring even if you're aiming for a classy interior: nowadays concrete floors don't look like dull old-school gray surfaces. They can have different finishes, textures, colours. Besides affordability and practicality, concrete floors create the perfect backdrop to any style of furniture.
What is concrete flooring made of?
Concrete is a composite material formed when aggregate materials such as dirt and gravel are mixed with water and cement. Cement is widely used in residential construction, especially Portland cement, which contains limestone (calcium carbonate) as its primary component. The interesting thing about raw concrete slabs is that their surface looks like canvas. In comparison with raw concrete, polished or stained surfaces have multiple advantages.
Family-Owned Company. 20 Years of Masonry Expertise
Types of concrete floors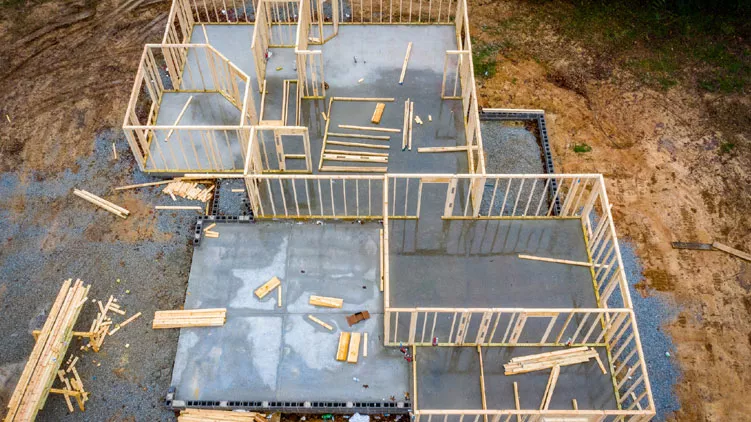 Residential polished concrete floors
The name speaks for itself: residential polished concrete floors are basically a new or an existing concrete slab which surface, after grinding, have been honed and polished with the help of the diamond grit and chemical solutions. This type of concrete flooring has an appealing glossy surface that complements contemporary and colonial interiors. The polished floors have that clean feel that can provide a seamless transition from the exterior to the interior of the house. Add a glass wall door and create a perfect infinity effect to the front part of your house!
Are polished concrete floors expensive?
Polished concrete floors for residential uses tend to have lower costs than tile or hardwood floors. Needing little maintenance, being super durable and strong, these floors will generally be cheaper to install and keep in perfect condition. The polishing method gives the desired level of gloss finish to almost all existing concrete slabs. Our company uses non-toxic and environmentally friendly materials and products for residential concrete floor cleaning and polishing.
What finishes are possible with polished concrete floors?
Depending on the diamond grit that the contractor uses, polished concrete floors can have different levels of shine:
Matte
Semi-gloss
High gloss finish
Residential stained concrete floors
Residential stained concrete floors are basically the concrete slab that has been sanded and then "stained" with the help of concrete colorants. It can be used in contrasting wood tiles, laminate, carpet, marble, and other surfaces. Stained concrete floors can be painted with any color, and the design options are endless. Therefore, this type of decorative concrete floor can fit pretty much any style and interior. New residential construction uses this type of flooring material very often. Also, it can be a perfect affordable alternative to expensive materials: get it in marble like appearance and save cash on house redecoration!
Can the concrete floor be painted?
The possible finish on an existing concrete slab depends on its quality and the current state. For example, concrete surfaces that were frequently exposed to oil or other substances, including concrete garage surfaces or industrial flooring, can require sealing, and only then polishing and painting. And, on the other hand, rustic concrete floors with uneven surfaces are often painted as they are, to retain the artistic feel. Depending on the kind of decorative concrete flooring that you're looking for, our Masonry Chicago specialists can paint your slab with beautiful finishes for less than the cost of the wood floor. The concrete finishes that we use are of superior quality and provide excellent durability, and are relatively easy to maintain.
Concrete flooring finishes combination for unique decorative solutions
Some homeowners choose a combination of stained and polished concrete floors to create an aesthetically appealing, unique design of their residential concrete floors. Imagine a restrained gray mixed with a colorful palette, matching your walls, furniture, and even house plants!
20

years of Masonry Expertise

50+

professional bricklayers

300+

masonry and tuckpointing projects
Ready to start your masonry project?
Chicago Concrete Estimates - Full Service Construction
Concrete floors for the unique design of the living spaces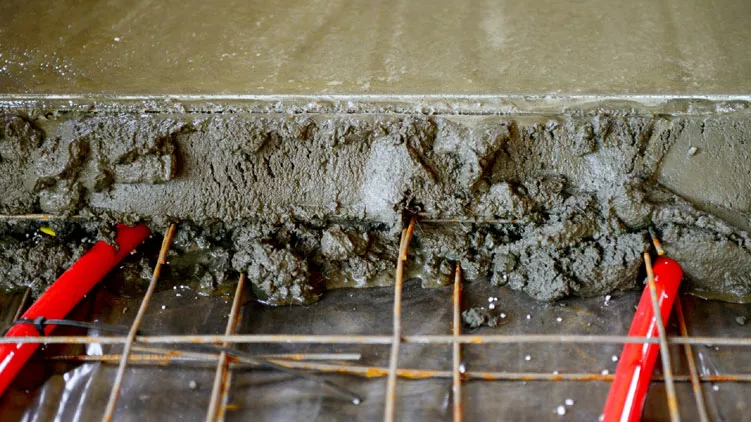 Concrete floors are ideal for many kinds of residential designs and they don't just perfectly suit modern, industrial, and loft homes! Darker, cozier, richer in color and texture, classier interiors are also perfect for stained or polished concrete flooring! Perfect in a Colonial-style house! Numerous options suit luxury residences, creative bohemian residences, environmentally friendly living spaces. Contractors use different techniques to create unique concrete floors. Give Masonry Chicago a call today and find out your options!
…And perfect for the utility spaces
Concrete floors are easy to install, clean, and maintain in general. They are durable and inexpensive. Therefore, many homeowners choose them as a number one option for the garage, basement, or utility room. Tinted concrete can be used in a wide variety of spaces. But as the new concrete floor can easily absorb water, we do not recommend using exposed concrete floors in the laundry rooms or in the basements, prone to floodings.
Residential properties: where concrete floors can be installed?
Basement floors
Garages
Patios
Utility rooms
All living spaces
Walkways
Pros and cons of concrete flooring
There is a lot of confusion about the pros and cons of concrete floor coverings. From every flooring material, polished or stained concrete has numerous advantages. If one takes good care of these floors, they would last many generations ahead. And, besides that, other materials may have lower cost effectiveness! Concrete floors have very low maintenance: you just need to dry and wet mop them to avoid dust particles destroying their surface and use a concrete sealer once in 2-5 years.
Pros
Visually appealing
Low cost
Low maintenance
Concrete retains less heat and the floors feel cool in the summertime
Concrete floors with installed radiant heating allow keeping their surface warm and toasty floors in winter
When well insulated, it does not cause water damage
Cons
The contents of the concrete could crack or splinter (concrete floors are not advised for children's rooms)
When concrete is polished, buffed, or coated with gloss seals, it can become slippery
The concrete can easily absorb water when not sealed
Molds can grow on non-sealed wet concrete
Over 300 Projects in Chicago and Suburbs
Residential concrete floor installation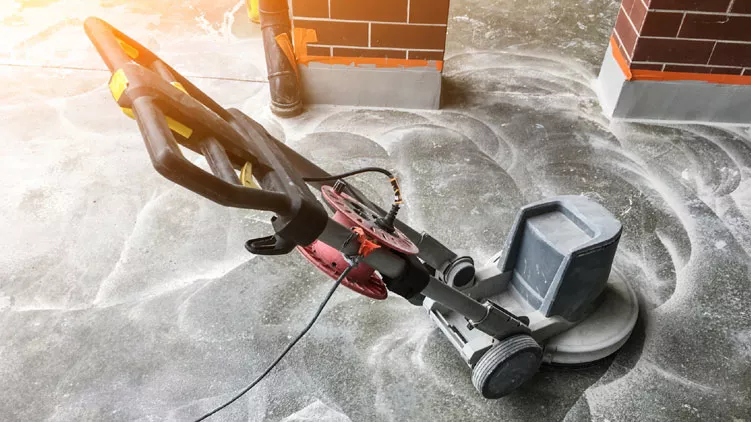 The concrete flooring is made by working the surface of the existing slab with the diamond grind and then covered with the polish or color. The process involves the removal of bare surface areas and exposing raw slabs. The slab is then be covered with fresh concrete that will become a base to the polish or color. Usually, the concrete is covered in 2 coats. It has to be done very carefully: if someone drops an object on the ground, the surface would be damaged. That's why it is important to trust this work to professionals! Give a call to Masonry Chicago today and book your concrete floor installation today!
Concrete floor cost
Each type of floor installation consists of the material and labor cost. Concrete has lower overall costs in comparison to wooden or natural stone flooring. Also, you have to bear in mind that concrete floor costs will increase if decorative techniques are applied. The typical cost for floor design is from $2 per square foot for the basic work to $30 / $80 per square foot for the high-end floor designs. Concrete floors will last homeowners for a few generations to come, so this price range makes it a very good investment. Also, they will help you to save time and money by reducing the cost of replacing your floors over time!
In comparison to hardwood, natural stone, and other types of flooring materials, concrete is definitely a cheaper option. And by using decorative concrete, you can easily imitate the expensive materials.
The durability of concrete material for the floors
Concrete is regarded as one of the most resilient composites, and it can withstand up to 100 years in good conditions, and when maintained properly. Concrete has a solid hardness that can endure extremely heavy "traffic", so it can essentially handle the residential lifestyle. Concrete will not age as many other materials will — just make sure that you install sealed concrete floors!
Environmental impact of concrete flooring
The production processes for cement (a component of concrete) use fossil fuels and produce significant amounts of carbon dioxide and sulfates. Therefore, it is important for contractors to use the materials, produced by environmentally conscious brands. Here at Masonry Chicago, we only use the top brands of the highest quality.
Why choose Masonry Chicago concrete floors?
Masonry Chicago has extensive experience in concrete floor installation. We provide our customers with concrete floors and finishes that can be easily integrated into any building style and design. Be it new construction, a minor, or massive residential restoration — we offer optimal solutions and competitive prices. Get your free estimate today at 773 231-5371.
Frequently Asked Questions
Is a concrete floor a good idea?
Yes, it is a very good idea! Concrete floors are affordable, durable, low maintenance, and super versatile in style. It can be the most elegant floor you will have seen!
Is a concrete floor cheaper than wood?
Concrete floors are much cheaper than wood floors. Generally, concrete floors price starts from $2 per square foot, while the pricing of wood floors starts from $12 – $20 per square foot. Therefore, polished concrete flooring costs about six times cheaper than hardwood floors.
Can you DIY concrete flooring installation?
It is rare for homeowners to undertake a concrete floor installation job as it requires specialized experience. Hiring professionals can be a reasonable solution for the work of any scale. Looking to install residential concrete floors? Call Masonry Chicago at 773 231-5371 and book your appointment!
Are concrete floors expensive?
In comparison to expensive flooring coverings like slate or marble, decorative concrete is often the best option. Concrete makers can easily replicate posh materials' look! Concrete flooring also has longer life cycles than many cheaper flooring materials. So you save money long-term because no replacement would be necessary. The cost of basic decorative concrete floors is around $1 – $2 per sq. ft.
How can you install radiant floor heating?
Radiant heat systems are used to heat concrete since they transfer heat easily without damaging it. Electric heating wires are laid to a ground surface and a hot-water tube is poured onto it. Radiating heating systems may also be installed on existing concrete flooring, by embedding the tubes into a thin layer of concrete that is laid over the existing floor surface (the latter obviously means an increase in floor height).
Is the concrete floor easy to renew?
The concrete surface may require you to seal it or paint it occasionally depending on its finish. Usually it is done every 2-5 years.
Look at
The Results of Our Masonry Works:
Building with a difference. Before and After: